The Most Expensive Domain Sales
The most expensive domain sales in 2022 have exceeded even the most optimistic expectations. While we're always happy to celebrate these big wins, what's most impressive is that 2021 was a record year in terms of dollars transacted— but not over quantity of domain sales.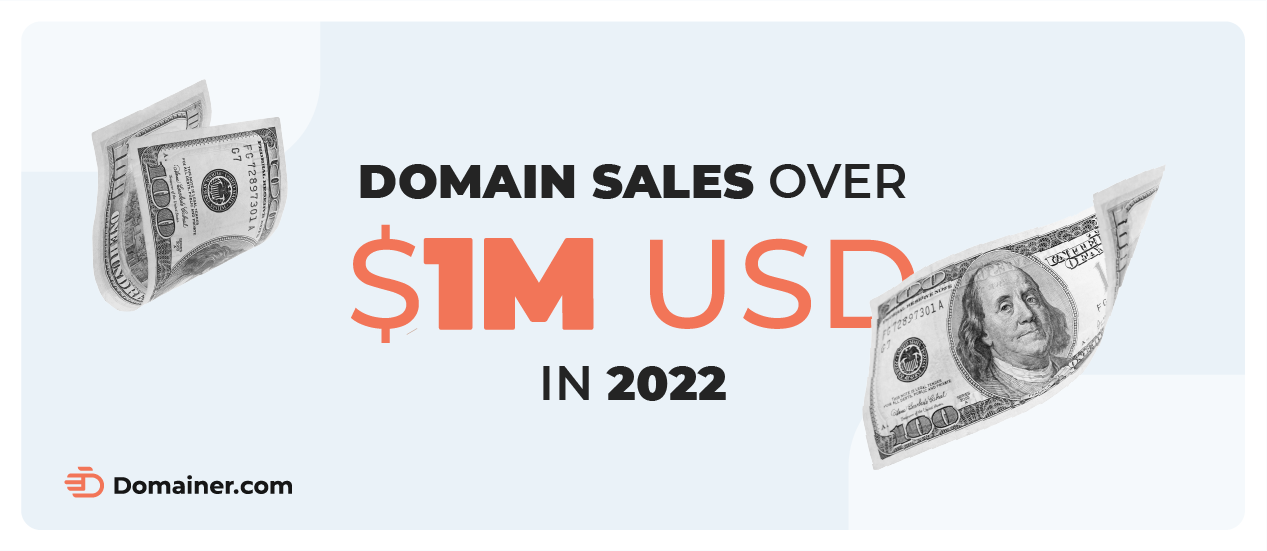 When you have the best land available, it's quality over quantity that matters and brings the best results for buyers and sellers alike. In this blog post, I'll explain what drove domain sales in 2022 and why you should consider purchasing your premium domain with us next time you're ready for a change.
The Top Domain Sales 2022
In 2022, the domain name sales are the highest they've ever been; domain name sales in 2022 have been bolstered by an uptick in the number of businesses being registered on the internet post-covid. People are noticing and taking advantage of the power that great domains have to help them grow their businesses, promote products and services, and expand their influence.
We have gathered some of the most expensive domain sales so far in 2022, each one represented an untapped opportunity for a business owner looking to represent themselves online and reach potential new customers. The relationships that these buyers had with brokers contributed significantly to the positive outcome of these sales. 
Gems.com
In April 2022, gems.com, one of the most expensive domain sales this year so far, was purchased by Gem Shopping Network, Inc. for $1.5 million USD. This domain name is a perfect fit for their marketing strategy because it's a short-tail keyword. It's a great investment that has been going up in value over time due to its popularity with both end-users and ecommerce marketers alike. The company purchased the domain via VIP Brokerage, there are no details on who they bought it from – the seller also bought an unknown amount of traffic for the site.
Unlock.com
Unlock.com, another premium domain name, was purchased for $1,228,200 by San Francisco-based Unlock Technologies, Inc., it was the first sale in 2022 over $1M, with the sale brokered by Best Web Limited. What is so special about this domain name? It rolls off the tongue nicely; it's easy to spell; and it's memorable. The buyer knew it would be a valuable asset and wanted to keep it quiet until he had secured the deal before announcing the purchase after the fact, the website was up and running at the time of the announced sale.
Stable.com
In 2022, the domain name stable.com was purchased for $1,008,925 through NewReach.com to an undisclosed buyer. Stable.com is a premium domain name, like many which have gone up in value over time and continues to do so as the popularity increases year after year while the availability decreases.
Even though we do not know the identity of the buyer, this purchase offers insight into what other companies may be doing in 2022; when they see a rare and premium opportunity like this one come up, they pounce. And it's not just big corporations buying up premium domains; startups are also getting involved in the space now too as it's seen increasingly as an important marketing tool.
Domain Brokers for Expensive Domain Sales
You will notice that none of the these high-profile sales were facilitated by 'bulk' domain sales brokerages. The top domain sales 2022 were all brokered by smaller, well respected brokerages. It's clear why the buyers chose this method; the price of a premium domain is not just determined by the buyer's willingness or ability to pay for it; it's also based on what other parties are interested in purchasing it for—and how much money they're willing to spend doing so.
An opaque or private buying process means that there are times when even high-value domains end up being sold for more than anticipated because there are interested buyers who remain covert until the last moment and drive up the price. When seeking a premium domain purchase and wondering whether or not it's worth your while, it's always worth speaking to an expert to get insight not only on the domain, the domain owner but also other interested parties.
Domainer.com – High-Service Brokerage
It is a big moment when you realize you are ready to buy a domain name that will propel your business and brand to the next level, but there's still one major barrier standing in the way of success: purchasing that perfect domain name that can really help drive traffic and boost revenue. Going with a bulk brokerage can be tempting, they are extremely aggressive marketers and salespeople. But ultimately are far more interested in high turnover, mediocre and expensive domain sales, rather than taking the time with clients to focus on a common goal and doing the legwork to secure truly premium domains.
Domainer.com's process is purely boutique, and we pride ourselves on it. We have the most intimate relationship with our clients and their needs, which is why you can expect a level of service that is unrivaled in this business and an experienced team who will be happy to assist you from beginning to end. We have the contacts and expertise to deliver that next level negotiating power.
Why Businesses Bought Domains in 2022
The domains listed above answer some of the questions about expensive domain sales in 2022. These sales show that while organizations may be cutting costs in other areas, there are still those who value high-quality, memorable domains, particularly in the tech and crypto fields. If you have any questions or comments, please reach out – we'd love to hear what you think!
Frequently Asked Questions
Below are some of the main questions that people have asked when considering purchasing a new domain. If there's anything we've missed, please feel free to reach out!
☑️ Which domains are sold for the highest price?
Domains sold at the highest prices are usually one-word domains with the original suffix of .com. There are also huge shifting trends in the market, for instance we've seen a marked increase in the popularity of NFT domains even within the last year.
☑️ What is the most expensive top level domain?
A top-level domain is the highest level of the domain naming system. It's what you see in front of the dot at the end of your URL. There are several hundred currently in use across different languages and new ones being created every day, but by far the most popular and expensive are .com, .net and .org.
☑️ How much can domain names sell for?
We have mentioned some of the most expensive domain sales in 2022, but domains can vary greatly in price. For as little as a few hundred dollars (or even less) for less desirable names or less well-known top level domain.
☑️ Why is better to use domain broker when buying a domain name?
As discussed, it's always preferable speaking with a domain broker when you are on the hunt for your new domain. A broker will handle to legal paperwork, the transfer documents as well as the money transfer, all of which ensures a lower stress and safer transaction.
☑️ Which broker should I use to purchase a premium domain?
With so many brokers out there – and more entering the market every day – it can be difficult to know where to start looking. The best way is always to simply start the conversation; reach out to our lead domain broker for an obligation free consultation to get the ball rolling.
Contact
We'd love to hear from you! Reach out if you have any feedback or if you want to book in your free initial consultation with our lead broker at mail@domainer.com.