Domain Name Availability – Are Domain Names Really Running Out?
The Internet gets busier by the minute. As of January 2022, there are 1.17 billion registered domain names.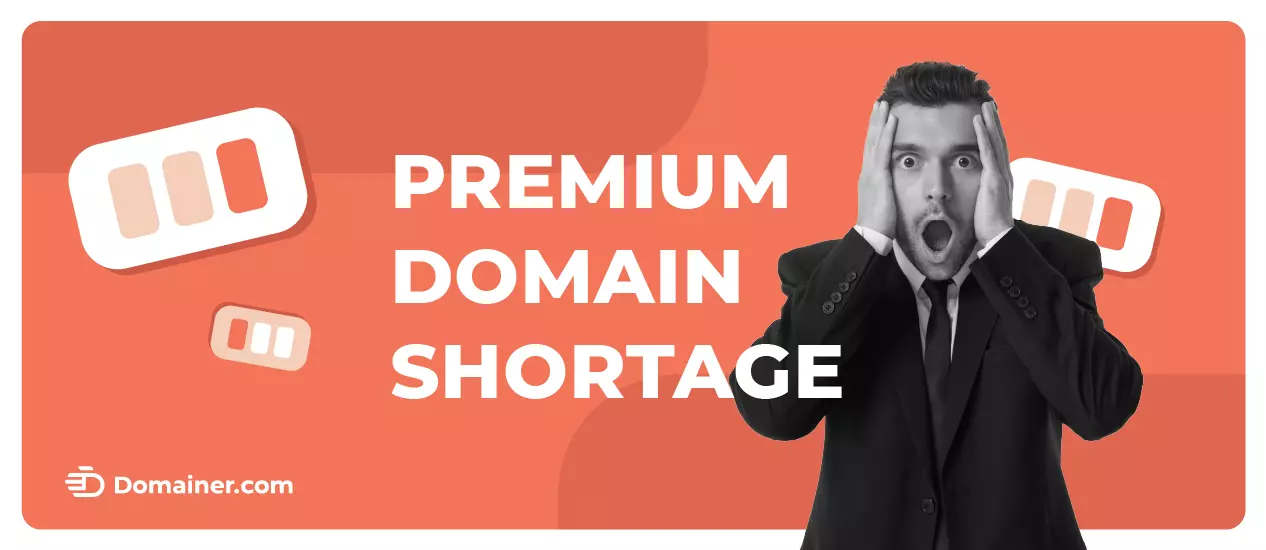 What's more, brands that want to stand out with a premium domain name today need great knowledge of the domain industry, intellectual property rights, law, and … a great amount of luck. And if you lack the knowledge and expertise, an experienced domain broker can always help you.
What Are the Numbers Saying
The domain market is getting more saturated. Statistics show that:
3 new websites are created every second
175 new websites are created every minute
10 500 new websites are created every hour
252,000 new websites are created every day and
2,000+ new websites will be created by the time you are done reading this article
This sheer growth that started with only one website on the web in 1991 it's now over a billion. While it's true that domain names are constantly added (and subtracted) on a daily basis, this impressive growth only means that the demand for exact matches of one word is easy to pronounce, and brand domain names (known as premium domain names) is getting higher.
And although domain names will not run out anytime soon, the market of premium domain names is getting more saturated.
The Need for High-Quality Domains Is Growing
The high-quality domains allow brands to outperform their competitors easily because they are memorable and concise and help users easily find your brand.
Some core indicators that indicate that a domain name is (or may be) premium are the following:
Brevity
One of the key features of a premium domain name is the fact that they are short and memorable. Domain names with hyphens or other symbols are less successful due to their complexity.
Trustworthy TLDs
Premium domain names usually have a trustworthy TLD, like the classic .com extension. They are very desirable and many brands search for the specifically when they try to buy a domain.
Brandability
Brandability – when you have a domain name that is easy to build a brand around, it's more recognizable and hence more valuable. Premium domain names are way more expensive than any other domain names on the market because they hold a crucial competitive advantage – the ease with which customers can remember and access their brand.
Obtaining a Premium Domain Name
Many well-known brands, however, have encountered serious challenges in securing their desired domain names. For instance, Google has renamed its company Alphabet, but the company holding the domain alphabet.com is not theirs; BMW owns it.
Mojang, a game developed by Microsoft, had to spend $2.5 billion to acquire the domain mojang.com, which was the property of an Australian mining engineering company. It took 16 years for Apple to obtain the domain apple.co.uk and for twenty years, Nissan has tried to acquire the domain nissan.com from a person called Uzi Nissan.
It's unheard of for there to be expired premium domain names in this category of popularity so organizations need to be absolutely 100% vigilant when dealing with their homes online.
With short and memorable acronyms, the situation might get even messier. If we look at governmental organizations like NSA.com, MI6.com, and CIA.com, we will see that those domains don't belong to governmental institutions but to individuals.
Most brands are able to acquire their domain names through cash or other creative ways. For instance, Uber paid 2% of the company's shares to obtain the domain uber.com, and Slack had to pay $60k to get slack.com.
Those examples only show that it's always a better practice to acquire a premium domain name sooner than later.
First come, first serve
Most domain name registries operate on the fair principle of the first come, first served. This means that the first person to reserve and register a domain name is usually the domain owner.
There are a few ways to obtain a premium domain names:
Targeting expired premium domain names
One way of finding valuable domain names is by targeting expired premium domain names. Every registrant should pay a fee to keep their domain name. When someone misses the payment, the domain becomes expired, and anyone can obtain it. However, the aftermarket for domain names is rarely the place where you will be able to find premium domain names because the owners of such valuable assets keep a close eye on them and rarely will make the mistake of missing that asset.
Use a Domain Broker
Usually, domain brokers are the most efficient and cost-effective way to acquire a premium domain name. A good domain broker should have a keen sense of valuation, deep knowledge of the aftermarket, and extensive experience in high-value acquisitions.
Is it Worth It to Acquire High-Quality Domain
Large corporations and top brands recognize the value of a domain strategy based on a descriptive premium domain name. They use domain names that are short, memorable, have trustworthy TLDs, and occupy the digital space with keywords that are related to the brand or its products/services.
Video.com, film.com, and Disney
As we know, the Walt Disney Corp is a leader in the animation and film industry. The company registered the premium domain names (back in the 90s) video.com and film.com, and both redirect to Disney's website.
Fast.com and Netflix
The streaming company that needs no introduction – Netflix runs the premium domain name fast.com. Fast.com is an internet speed tool where people can estimate their ISP's Internet speed.
Microsoft
The tech giant owns a vast portfolio of premium domain names. They connect clear, short, memorable, high-quality domain names like docs.com, office.com, and start.com with keywords that connect to their products and services.
Top brands, and brands that take their name seriously, recognize the need for a strategic premium domain name.
The domain industry is expanding its horizons…
In 2021, the domain industry continued to grow without any sign of slowing down. With the rise of NFTs, domains experienced new heights. And even though the world economy continues to be affected by the pandemic and global wars, the domain industry continued to post record-breaking numbers.
All of this suggests an ever prevalent premium domains shortage, even with the introduction of more and more alternative domain extensions.
Two trends that saw an impressive rise are the increasing interest in NFTs and hence the NFT domains and the new upcoming domain extensions.
New NFT domain names
NFT domains are new web extensions (just like .com, .net, etc.). They were launched as smart contracts on a blockchain network.
NFT domains are stored in a wallet by the owner (just like crypto), and no other party can take them away. Plus, once you pay for it, it's yours forever (you have no renewal fees associated with the domain name).
Self-custody is one of the main features that NFT domains have and what makes those domains decentralized and gives you complete control over your domain name. NFT domains act as a wallet, and because they are NFTs, you can hold, buy and sell as if they are NFTs. Interestingly, these names do not "expire" annually like traditional domains, which can reduce barriers to ownership over periods of time and fuel a premium domains shortage here as well.
The traditional domain names, also known as Web 2.0 domains, are more centralized, run, and managed by private companies. On the other hand, the web 3.0 domains are decentralized, with ownership and control of the domain name going to the person that purchases the NFT. As the crypto market continues to gain momentum, many people call web 3.0 the feature of the Internet.
Blockchain domains have different from the traditional web 2.0 TLDs (top-level domains) and are not under the jurisdiction of ICANN. Some of the decentralized TLDs are:
.blockchain
.crypto
.nft
.bitcoin
Upcoming domain extensions
Because the accessibility of original TLDs has become extremely low to most smaller businesses. .com/.net are now considered premium domains because of their high searchability.
In 2014, ICANN, approved the introduction of hundreds of new generic TLDs. This added more options to the shrinking pool of quality .com domain names.
The addition of new upcoming domain extensions increased choice for businesses while still remaining under one TLD umbrella and provided greater flexibility – increasing the ease of producing name hacks (a domain name that uses a combination of words from different top-level domains). For instance, facebook.net is registered as a single word domain under TLDs other than .com.
However, the new gTLDs are more difficult to promote than legacy TLD names such as .com or .net because most consumers don't trust websites using newer extensions.
While new gTLDs may mean less competition in your keyword search rankings compared to similar keywords using legacy TLD extensions such as ".com," it doesn't necessarily translate into higher SEO rankings because Google prefers .com domains.
Some domain extensions like .club, .tv, .biz perform really well others like .bible search for a wider following.
The future of .com
As domain names are a precious asset, the domain industry is growing and trying to address the increasing demand for short, memorable and trustworthy domain names, with upcoming domain extensions forever pending. Although domain names are highly unlikely to go anywhere soon, high-quality .com domain names are running out, and the opportunity to acquire such domain names for your brand is getting smaller. The popular activity with domain enthusiasts of expired premium domain name collecting is not an option here as owners simply do not let them expire. So, if you consider acquiring a premium domain name, it's better to take action today rather than tomorrow. The more you wait, the harder it will become to find and obtain your desired domain names.
Frequently Asked Questions
Here you can find the answers to some of the most frequesntly asked questions.