Crypto.com Domain Sale
A domain name is the face of your online presence. The following case study shows exactly how to perfectly rebrand through a domain name change.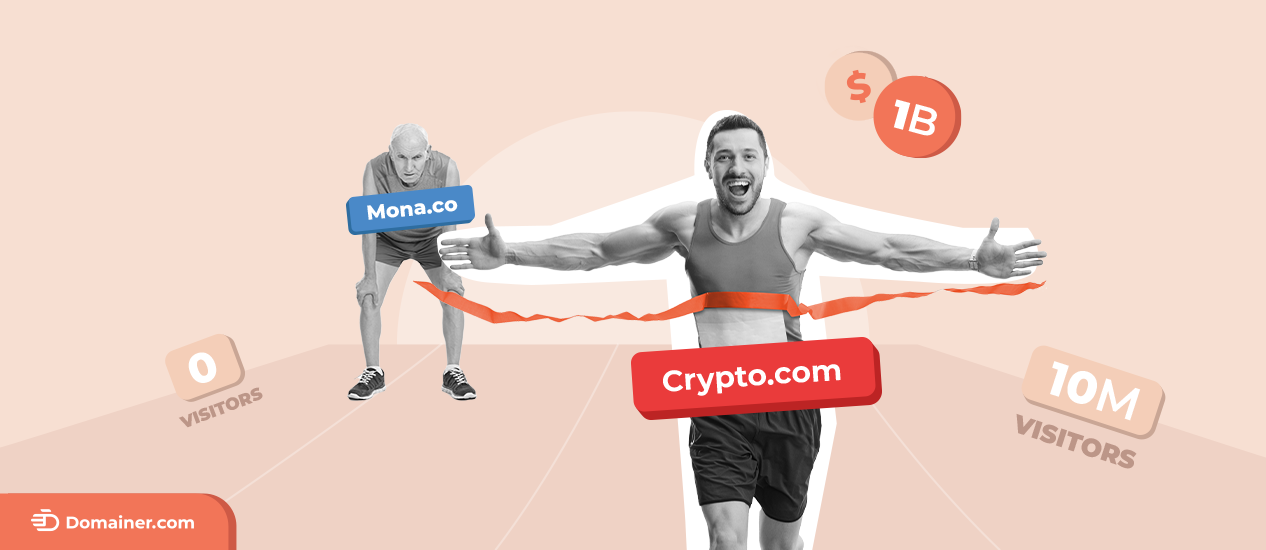 If cryptocurrencies are something that you are interested in or have looked at, you might have come across the major cryptocurrency exchange platform called Crypto.com. It released under the name Monaco and domain name Mona.co back in June of 2016. A Swiss start-up but now based in Singapore, the company is aiming to provide a platform for users to secure, sell and buy cryptocurrencies. Originally, they started off as a cryptocurrency debit card company. So far, the company has released additional services like an app, metal visa cards and crypto credit among others. NFTs and over 250 cryptocurrencies are also available on the platform for users to buy, sell and maintain.
The service is preferred for allowing people to connect multiple digital wallets and have an oversight to those at once. Their catalogue of products and services has improved throughout the year and mainly after rebranding. Going through with the Crypto.com domain sale was an expensive decision for the company, but one that was surely thought through and well planned. If Mona.co was well known within a small part of crypto investors, Crypto.com is a dominating platform nowadays. However, we are not talking about a simple rebrand, there are many aspects to this change, and we are going to look into those next.
Why Was the Crypto.com Domain Name Acquisition?
Rebranding can be done for several reasons. This could be in case that your company isn't performing well, you want to merge with another brand, or if you want to completely rebrand to introduce new values, image, products and audience. The Crypto.com domain name was a strategy to introduce a full rebrand to the old Monaco brand. However, the domain was already registered. In fact, it had been registered since 1993. The owner was Matt Blaze, a professor at the University of Pennsylvania. He is specializing in cryptography and has always been reluctant to sell his premium domain name. On 5th January 2018, on Twitter, he replied to someone interested in his domain with "For anyone else trying to contact me for this reason, don't bother. Not for sale.".
It seems like the acquisition of the Crypto.com domain would be a real struggle. So why would Monaco want exactly that domain? Because it is a premium domain name. Furthermore, it contains the best keyword for their market in the domain itself. Crypto is not only a keyword, but for many a standard word in their everyday vocabulary. On top of that, the domain extension .COM is the best extension to have.
In 2018, the company Monaco wanted to get bigger and provide more for its customers. They were after a powerful new identity, achievable through a rebrand. That same year, surprisingly enough, Matt Blaze got the Crypto.com domain sold to Monaco. The Crypto.com domain cost is alleged to be $12 mil. Monaco then unveiled their rebrand to Crypto.com on 6th July 2018.
Was Purchasing Crypto.com Domain a Successful Move?
The jump from Mona.co to the Crypto.com domain was a big move for the start-up company. Especially with the investment of the large $12 million Crypto.com domain price, it is a jump that definitely paid off for the cryptocurrency company. They reported 10 million users in 2021, three years after the rebranding. Just in 2022, the registered users were increasing at a great rate. The popularity of the platform, unfortunately enough, attracted some bad-mannered audience.
In January 2022, the big exchange platform was hacked. Between $30 and $35 mil. were stolen from 483 users in different amounts of different cryptocurrencies. The company treated this as an incident, but later admitted that it was a hacking, despite, they could reimburse those whom the hacker stole from. Even after this big scam case, Crypto.com is still performing well.
Crypto.com
| | |
| --- | --- |
| Year Revenue: | $1 billion |
| Search Results: | 19.7 mil. |
| Monthly Traffic: | 7 mil. |
| Release Date: | 6/7/2018 |
| External Links: | 249 |
Mona.co had 1 million users as of Sept 2019, just three years after being released. Two years later, in 2021, the registered users jumped to 10 million. A couple years after the Crypto.com domain name sale, registrations jumped up to 70 million users in late 2022. More and more people are trusting the platform for securing, buying and selling their cryptocurrencies. The Crypto.com Visa Debit Cards are also an incentive for users to register because of its 1-5% cashback and option to use cryptocurrencies to pay for everyday purchases.
The yearly revenue of Crypto.com reported is $1 billion in 2022. The new domain brings the company a monthly traffic of 7 million users and it shows up in overall 19.7 million search results. All these numbers speak in favor of the rebranded Crypto.com and are a great example of how a new premium domain name can successfully replace an old domain which drags your revenue down.
Mona.co Rankings
The chart above is showing the organic traffic that the domain name Mona.co has generated in the whole time it has been up. Since its founding in June 2016 to the rebranding to Crypto.com in July 2018. Organic traffic is any traffic generated to your website from search engine results. That is any traffic that is not paid for, like advertisements, but a simple search result on any search engine. As we can see, the first drastic change in traffic numbers comes in July 2017. In a short time, the numbers jumped to over 30 thousand. The most organic traffic that Monaco has seen, based on the chart above, is of over 45 thousand visits, before decreasing rapidly. Since announcing their rebranding to Crypto.com, the organic traffic to their original website is seen to decrease to absolute zero. As of now, the domain name Mona.co is no longer active.
Crypto.com Rankings

Similar to the previous chart, this one looks at the organic traffic, this time for the new Crypto.com domain name. The Crypto.com domain name was purchased in 2018, but here we want to focus on the time period between December 2021 and December 2022. The numbers of organic traffic are constantly increasing with each month. Despite the hacking in January 2022, the numbers stay the same. The only slight decrease in visitors is between April and May 2022, when numbers pick up again and only grow higher.
The major difference that we can clearly notice, is the difference between Mona.co and Crypto.com numbers. The old domain only reached 45 thousand visitors at its highest point. The rebranded domain, however, has been managing to keep almost 10 million visitors from organic traffic between October and December 2022.
A rebranding through a domain name change can be what your company is in need for. Do you need higher revenue, more traffic and potentially a new branding? Similar to Crypto.com, this strategy could help you with turning your business over for a better future. A good domain name broker can help you with the acquisition of the perfect premium domain name for your website and will always have your beast in mind. Contact Ian Garner at Domainer.com for a free initial conversation to talk about domain names with an experienced professional who can help you.
Frequently Asked Questions
The load of information could overwhelm the human mind, but let's cool down with the summarized questions that most people might have on the topic of the Crypto.com domain sale: