Domain Dressing Service and NFTExchanges.com Collaboration
Big announcement from Domainer.com!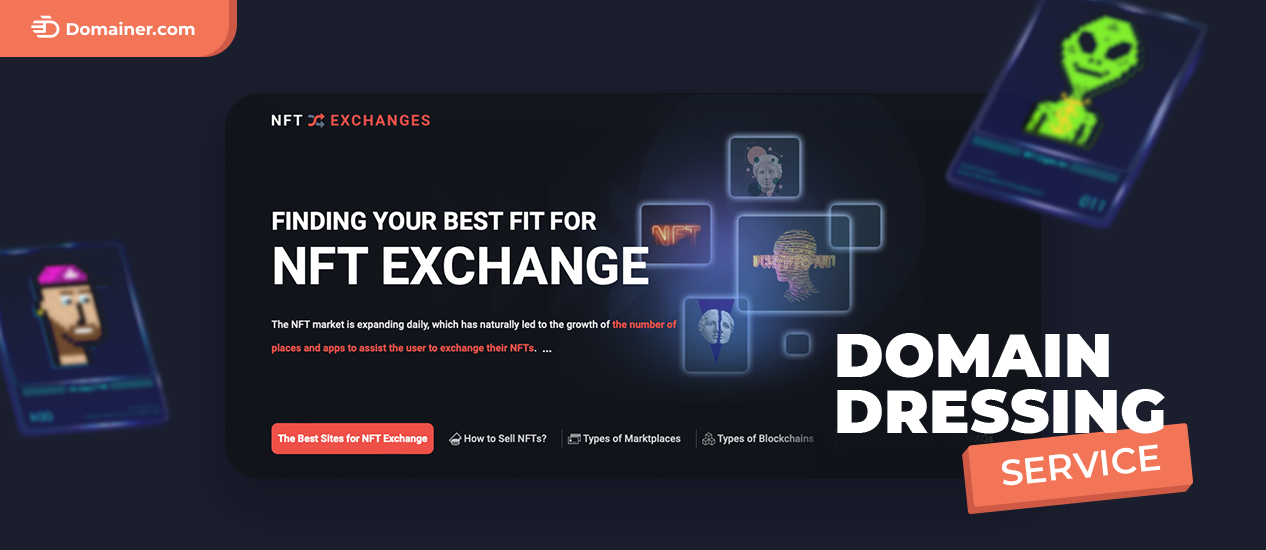 Now let's make it simpler. Think of your website as your online home. However, using our domain dressing service for your website is like giving that home a complete makeover. When someone enters your domain, we want them to say, "Wow!"
The best thing is that NFTExchanges.com already experienced this magic, and they are ecstatic with the outcomes! Visitors are queuing up to view their newly refurbished website, which has been fully revamped.
They seem to leave a glittery trail wherever they go online. With Domainer.com's domain dressing service, you'll get all the professional guidance you need to choose the ideal domain name, make it seem very catchy, and even improve its performance on search engines. It's like receiving an entire box of goodness! Therefore, don't delay! Allow us to dress your domain and witness the magic that's shining from the Domain Dressing Service and NFTExchanges.com collaboration. Keep in mind that the secret to internet success is a fancy-dressed domain
What DDS Achieves for NFTExchanges.com?
Let's talk about the awesome stuff Domainer.com's DDS achieves for NFTExchanges.com – it's a real game-changer for their online success!
Picture NFTExchanges.com now, all decked out with a super eye-catching design that totally captures the essence of the NFT exchanges industry. It's like they found their perfect online look, making users feel right at home and building trust in their brand – simply amazing!
But wait, there's more to this magic! DDS didn't just focus on looks; they also made sure NFTExchanges.com is a breeze to navigate and use. The website's user experience got a massive upgrade, and visitors are loving it. It's no wonder they're sticking around longer and converting like crazy!
And the best part? Behind the scenes, DDS worked its SEO mojo, making sure NFTExchanges.com shows up high and clear on search engines. Talk about a huge boost in online visibility and attracting the right crowd!
NFTExchanges.com is now a true powerhouse, all thanks to DDS and Domainer.com's expertise. Don't miss out on this winning combo – let them work their magic for you, too, and take your online presence to the next level!
Business Idea and Market Research
The domain name is vital to the success of services like NFTExchanges.com. Since it serves as the digital representation of your business, making the appropriate choice is essential. Our Domain Dressing Service (DDS) can help in this situation. The service goes above and beyond simple domain maintenance; we take the time to carefully choose the ideal name that properly complements your SaaS product. We recognize the value of a memorable domain name that sticks in users' thoughts. A wise domain selection increases brand awareness, establishes credibility, and makes it simple for potential customers to recall and locate you.
Imagine if NFTExchanges.com had a dull and forgettable domain! At Domainer.com, our team is all about market research. We dive into popular search terms, industry-relevant phrases, and user trends. This thorough investigation helps us find a domain that not only complements your business but also stands out in the competitive market.
So whether you're a startup or an established SaaS provider, our DDS solution is a real game-changer!
SEO Strategy
In the digital age, developing a strong online presence primarily depends on an effective SEO strategy. To ensure that your website moves in the search engine rankings, we provide our Domain Dressing Service. DDS goes above and above to carefully choose and conduct secondary and tertiary keyword research that will increase organic traffic to your website. Our intriguing meta titles and descriptions are made to entice people to click and continue exploring. But that's not all; we also concentrate on enhancing the profile of your domain to demonstrate to search engines that you are a reliable competitor. Backlinks are important in this.
Why is this such a big deal? Well, excellent SEO can mean the difference between your website sparkling on page one of search results and floundering on page ten. DDS will increase your website's organic traffic, attracting more people and producing quality leads.
At Domainer.com, we are aware of the need of a thorough SEO strategy for online success. By relying on DDS, you'll optimize your domain, boost your SEO, and watch as your business soars to new heights!
Content
At NFTExchanges.com, we recognize the value of an engaging and seamless user experience, particularly when it comes to content orientation. The exciting world of NFTs, cryptocurrency wallets, and internet security is the focal point of our website, and the Domain Dressing Service is a key component of that.
We make sure these crucial elements are seamlessly incorporated into the content of our website using DDS. We meticulously arrange NFT-related content, highlight crypto wallet capabilities, and emphasize robust internet security measures under the direction of Domainer.com to create a seamless and engrossing narrative.
Numerous educational articles about the intriguing world of NFTs and how crypto wallets support secure transactions are available to readers of NFTExchanges.com. We consider their needs when developing the content, offering them comfort about internet security and educating them about the benefits of NFTs.
Through DDS, we ensure that the content of our website accurately reflects the objectives of our business, appeals to our target audience, and builds trust. Visitors are more inclined to remain, investigate, and eventually become devoted customers when information is skillfully managed.
By seamlessly integrating NFTs, cryptocurrency wallets, and internet security in our content orientation, NFTExchanges.com showcases the power of DDS in creating an engaging user experience. We're dedicated to giving each and every one of our guests an outstanding internet experience.
Design
Design expertise from DDS is used by NFTExchanges.com to create a platform that is both visually appealing and easy to use. The black and red color scheme produces a distinctive ambiance that fits with the Bitcoin sector while radiating trust and dependability. This deliberate use of color establishes NFTExchanges.com as a trustworthy participant in the realm of digital assets. DDS promotes a smooth surfing experience by getting rid of extraneous clutter and distractions since it recognizes the value of simplicity in capturing users' attention. The website makes it simple to navigate and find what you're looking for by emphasizing important details concerning NFTs and crypto wallets.
The end product is an attractive website that grabs users' attention right away. In addition to having a visually pleasing appearance, NFTExchanges.com now has improved functionality thanks to DDS, which ultimately improves user experience and promotes more involvement with the site.
Code
At NFTExchanges.com, we give DDS the responsibility of refining and optimizing the code for our website in order to guarantee not just effectiveness but also a seamless user experience. DDS refines the code for NFTExchanges.com in the same way that it did for NFTPayment.com.
Our website runs at its best efficiency because of DDS's experience, giving users a simple and straightforward experience. Additionally, by improving our search engine ranks, this optimization keeps our audience interested and engaged.
Speed is essential in the modern, fast-paced digital environment. DDS helps NFTExchanges.com's website load quickly so that visitors don't have to wait as long. In addition to making our users happy, this speed also entices them to easily browse and transact on our website.
DDS is aware that sophistication is exemplified by simplicity. By maintaining clear and simple code, we guarantee a reliable and trouble-free website, minimizing potential risks and complications that might impair user experience.
At NFTExchanges.com, we depend on DDS to work behind the scenes to make sure our website is not only optimized but also quick, simple, and hassle-free, all in an effort to give our valued users the best experience possible.
How Owning a Premium Domain Name Like NFTExchanges.com Is Beneficial?
Your internet presence can be significantly impacted by owning a Premium Domain Name like NFTExchanges.com. Let's use NFTExchanges.com's successful collaboration with DDS as a case study to illustrate the many advantages of using a wise premium domain name.
A PDN improves brand recognition in the first place by increasing user accessibility and brand recall. It distinguishes you from rivals and enhances the trustworthiness and reliability of your brand.
Additionally, having a premium domain name like NFTExchanges.com raises your rankings on search engines. Your website will become more relevant in search engine spiders' views by including pertinent keywords like "NFT" and "exchanges," which will enhance visibility and position. A thoughtfully chosen PDN also aids in a seamless user journey. Visitors are more likely to interact with the website and feel comfortable transacting when they come across a domain name like NFTExchanges.com.
First impressions are crucial in the digital world, and PDNs like NFTExchanges.com make a strong first impression. Visitors are more interested and engaged when they explore further due to the unique and curious domain name.
Finally, having a premium domain name like NFTExchanges.com has several benefits, such as increased brand recognition, better search engine rankings, improved user experience, and a long-lasting impression on site visitors. It's an intelligent investment that helps you build your internet presence and stand out in the crowded industry.
Unleash the potential of NFT trading with NFTExchanges.com, the premium domain that offers a strategic advantage in the competitive landscape of digital collectibles, providing a centralized platform for seamless buying, selling, and trading of NFTs.

Ian Garner
Domain Broker of Domainer.com
Wow, NFTExchanges.com seems like a game-changer in the world of NFTs! With its premium domain and the expertise of Ian Garner from Domainer.com, it's positioned to excel in the competitive digital collectibles market. Offering a platform for NFT-related news and information about the best NFT exchanges can truly unleash the potential of this exciting industry.
Why NFTExchanges.com Is Different from Their Competition?
What sets NFTExchanges.com apart from the competition? It's a perfect blend of the unique NFTExchanges.com business idea, a premium domain name, and the expertise of Domain Dressing Service. Navigating their platform is a breeze, thanks to a flawless design, engaging content, and optimized code that boosts user engagement and conversions.
In the crowded NFT industry, their distinctive premium domain name enhances brand recognition, making NFTExchanges.com the most user-friendly hub for your first source of NFT-related information. Moreover, their unwavering commitment to internet security instills confidence in clients, making them the preferred choice for NFT enthusiasts.
With Domain Dressing Service and NFTExchanges.com, you're embracing the future of digital transactions with unwavering confidence in their game-changing business idea. Experience the extraordinary and unlock the full potential of NFT trading with them.
Why DDS Was Essential Choice for NFTExchanges.com Business?
NFTExchanges.com business idea stands out as a trailblazer in the NFT sector thanks to the domain dressing service and premium domain name. Domain Dressing Service and NFTExchanges.com worked wonders together, creating an eye-catching design, simple navigation, and captivating content. The PDN "NFTExchanges.com" enhances brand recognition and sets them apart in the competitive NFT business.
Their user-friendly platform for NFT-related information, streamlined by the optimized code, boosts engagement and search engine rankings. Carefully chosen keywords and meta descriptions expand their internet presence, reaching a growing community of NFT enthusiasts.
Above all, NFTExchanges.com's unwavering dedication to internet security fosters trust and confidence among its clients.
In conclusion, this success story is a result of combining what DDS achieves for NFTExchanges.com together with the PDN. Embrace the future of digital transactions with NFTExchanges.com, where DDS delivers outstanding outcomes and their innovative business idea sets them apart from the competition. Trust them to lead you seamlessly into the world of NFTs.
Frequently Asked Questions
These are the most frequently asked questions about owning a premium domain name like NFTExchanges.com!