Domain Dressing Service and NFTFantasy.com Collaboration
We at Domainer.com are excited to share that NFTFantasy.com will be working with us.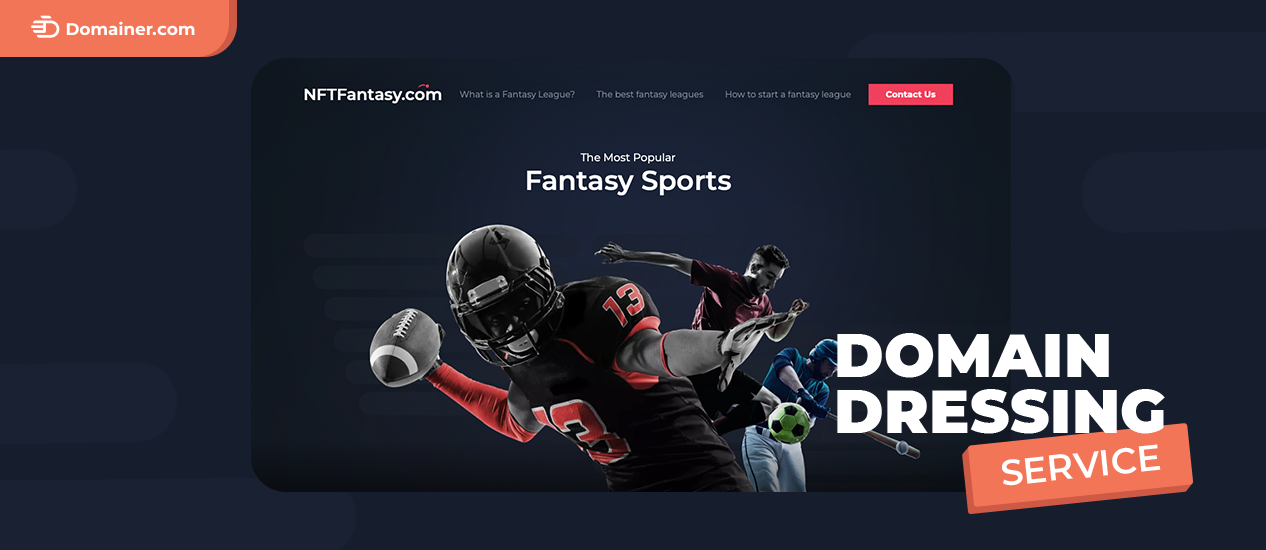 Our Domain Dressing Service is a special offering to improve the visual appeal and marketability of domain names. We transform common domains into virtual assets that stand out in the digital landscape by using our creative skills and expertise in the area.
As a result of our partnership with NFTFantasy.com, we have already used our magic to make the domain NFTFantasy.com into an engaging online hub for all things NFT and fantasy league-related. NFTFantasy.com represents the ideal union of creativity and innovation in the NFT sector with its vivid aesthetics, easy navigation, and interesting content.
A new era in domain investing has begun with this partnership between Domainer.com's Domain Dressing Service and NFTFantasy.com. By combining our talents, we help organizations and people to fully utilize their online presence and create memorable experiences that stick with their target audiences.
Stay tuned for more exciting collaborations and remarkable domain transformations by Domainer.com's Domain Dressing Service. Together, we are shaping the future of online branding and investment, one dressed-up domain at a time.
What DDS Achieves for NFTFantasy.com?
Be prepared to be fascinated as Domainer.com's Domain Dressing Service (DDS) transforms NFTFantasy.com in a remarkable way. This dynamic partnership, which combines the craftsmanship of DDS and the creative soul of NFTFantasy.com, has brought out a new era.
NFTFantasy.com has become a captivating online destination that captures the true spirit of NFT fantasy thanks to DDS's magical touch. It has unmatched levels of visual appeal, marketability, and user-friendliness.
NFTFantasy.com takes customers on an extraordinary experience with a fascinating design supported by stunning graphics and a simple layout. The platform's marketability is evident, giving it importance in the competitive NFT market.
DDS has improved the platform's usability by allowing users to use it with ease and interact with its features without difficulty. Increased user satisfaction opens the door for connections that last.
Take a look at what DDS achieves for NFTFantasy.com, where limitless imagination and cutting-edge innovation meet. Discover the synergy that has elevated NFTFantasy.com to the peak of domain investing success and transformed NFTfantasy. Set out on a trip where possibilities are limitless, and dreams come true.
Business Idea and Market Research
The success of educational websites like NFTFantasy.com, where the domain name has great significance for informative platforms, is significantly influenced by Domain Dressing Service (DDS). Choosing a suitable domain name is crucial since it has a direct impact on user perception, brand identity, and marketability.
The domain name acts as a potential customer's initial point of contact in the industry, where usability, dependability, and functionality are essential. It needs to be unique and obvious to recognize while capturing the essence of the platform. DDS helps companies carry out in-depth market research to find important trends, target customer preferences, and competitor analyses.
The correct domain name portrays the platform as a leader in its field, builds credibility, and encourages trust. DDS engages closely with companies, utilizing its knowledge of branding and market positioning to improve the domain name-choosing procedure. DDS creates domain names that connect with the target audience and leave a lasting impression by adding strategic keywords, industry-specific vocabulary, and distinctive characteristics.
DDS also assists with thorough market research to identify undiscovered markets, new trends, and customer pain points. The idea of NFTFantasy.com is to bring together the intriguing world of NFTs and the fantasy league concept. In order to participate in fantasy leagues with NFT-related themes, users can build virtual teams using NFT characters, objects, or collections. This provides a distinctive and engaging game experience. DDS assists organizations like NFTFantasy.com in building a strong online presence, drawing in their target audience, and carving out a position in the highly competitive sector by combining careful market research with professional branding techniques.
SEO Strategy
A successful SEO (Search Engine Optimisation) strategy is essential for the success of educational websites in the always-changing digital landscape. In order to maximize exposure and organic traffic, Domain Dressing Service (DDS) is crucial for optimizing SEO aspects like primary and secondary keywords, meta titles, descriptions, and backlinks.
DDS works directly with organizations like NFTFantasy.com to carry out thorough keyword research. DDS assists businesses in matching their content with the search intent of their target audience by identifying relevant primary and secondary keywords. By strategically incorporating keywords into the website's structure and content, you can raise your site's search engine ranking, increase traffic from organic sources, and increase visibility.
Additionally, DDS provides assistance in creating engaging meta titles and descriptions that draw search engine users in and give an overview of the website's contents. Higher click-through rates and better search engine visibility are the results of these optimized meta components.
Backlinks, another essential SEO element, play an important part in establishing the legitimacy and authority of a website. Businesses can develop trustworthy industry-specific backlinks with the help of DDS. This methodical strategy to link building raises the website's visibility, raises its position in search results, and increases targeted visitors.
It is essential to use SEO tactics properly, and this cannot be stressed enough. A website that has been properly optimized has a better chance of showing up higher in search engine results, bringing in targeted traffic, and outranking rivals. Businesses like NFTFantasy.com benefit from DDS's expertise in SEO by maintaining their leadership in their sector and getting an advantage over rivals online.
Businesses may fully realize the potential of their educational websites by using DDS. DDS enables businesses to increase their online visibility, connect with more customers, and position themselves as industry leaders through thorough keyword research, optimized meta components, and clever backlinking.
Content
DDS is aware of the significance of compelling content on informative websites like NFTFantasy.com, especially in relation to NFTs, cryptocurrency wallets, and internet security. By carefully balancing these essential elements, DDS makes sure NFTFantasy.com establishes itself as a go-to site for NFT aficionados.
DDS creates engaging content in partnership with companies that inform users about NFTs, assist them in managing their crypto wallets, and emphasize essential web security procedures. NFTFantasy.com presents itself as an authority in the always-changing NFT scene by incorporating intelligent articles, tutorials, and industry news.
Visitors are engaged by this expertly chosen content, which also improves their entire platform experience. Users can confidently explore NFTFantasy.com, learn insightful information for their NFT investments, and stay up to date on online security precautions.
As a result of the platform's seamless integration of DDS's experience and NFTFantasy.com's content focus, it becomes a priceless tool that enables users to move swiftly and safely through the NFT world.
Design
DDS is aware of how important design is in producing an engaging user experience. In terms of NFTFantasy.com, DDS's experience is clear in the thoughtful design decisions, such as an ice blue color palette and a simple design without pointless distractions.
The icy blue color scheme DDS picked for NFTFantasy.com emanates a sense of quietness and trust, giving users a sense of confidence. The platform's focus on the dynamic world of NFTs is complemented by this calming color, which improves visual appeal.
Intentionally keeping the design simple, it aims to give users a smooth and simple browsing experience. DDS guarantees that users can quickly go through the platform, concentrate on valuable content, and engage with the platform's services without any difficulty by removing pointless distractions.
NFTFantasy.com features an aesthetically beautiful and user-friendly interface thanks to DDS's attention to detail and proficiency in design concepts. The usage of the ice blue color scheme and simple design style demonstrates DDS's dedication to improving user experience and making sure NFTFantasy.com is recognized as a reliable resource for NFT enthusiasts.
Code
DDS makes website code easier to understand, resulting in a quicker and more effective user experience for websites like NFTFantasy.com. DDS uses industry best practices to streamline the codebase, producing speedy loading speeds and smooth operation.
DDS places a high priority on simplicity when developing its code. By maintaining a tidy and organized codebase, DDS makes maintenance and upgrades easier to handle. This strategy reduces possible problems and improves the platform's overall stability.
DDS's proficiency in code simplification and optimization allows NFTFantasy.com to provide an ideal user experience. The website loads quickly, enabling users to navigate without any hiccups or difficulties.
DDS's dedication to delivering a great user experience is demonstrated by its attention to optimized performance and clean code. DDS ensures effective coding and simplicity, laying the groundwork for NFTFantasy.com to become a trustworthy and user-friendly site for NFT aficionados.
How Owning a Premium Domain Name Like NFTFantasy.com Is Beneficial?
Owning a premium domain name like NFTFantasy.com offers numerous advantages in the NFT realm. A premium domain name (PDN) is a valuable and highly sought-after domain with several benefits, including brand recognition, credibility, and search engine visibility. NFTFantasy.com stands out from rivals thanks to its strong identification and immediate brand awareness, which helps it establish credibility and draw in a larger consumer base.
Due to the fact that search engines give priority to domains that match relevant keywords, a PDN like NFTFantasy.com also raises its exposure in search results. This increases the website's exposure within the NFT niche by generating targeted organic traffic.
A premium domain name also produces high-quality inbound traffic and backlinks. The NFT community's influencers and websites are more likely to link to a domain with a premium name, boosting the site's authority and SEO efforts.
In summary, NFTFantasy.com is a good example of the advantages of having a premium domain name in the vibrant NFT industry. Businesses may position themselves as leaders in the NFT sector, drawing a larger audience and remaining one step ahead of the competition with the help of immediate brand recognition, improved search engine exposure, and important backlinks.
Enter a realm of enchantment and limitless possibilities with NFTFantasy.com, the premium domain where the worlds of NFTs and fantasy unite, igniting your imagination like never before.

Ian Garner
Domain Broker of Domainer.com
With its portrayal of NFTFantasy.com as a premium domain that combines the fascinating worlds of NFTs and fantasy leagues, the phrase perfectly captures the essence of the website. The article explores how NFTFantasy.com uses a premium domain name and the Domain Dressing Service to provide its consumers with an immersive experience that sparks their imagination and opens up endless possibilities. NFTFantasy.com's fusion is highlighted as being enchanted by Ian Garner, the acclaimed domain broker of Domainer.com, who also invites readers to take an engrossing journey into NFT-powered fantasy.
Why NFTFantasy.com Is Different from Their Competition?
In combination with employing the Domain Dressing Service (DDS), using a premium domain name (PDN), and the creative business concept powering the platform, NFTFantasy.com stands out from the competitors.
NFTFantasy.com ensures a visually beautiful and user-friendly website by utilizing DDS's expertise. The outcome of the partnership between Domain Dressing Service and NFTFantasy.com is an engaging user experience, optimized performance, and seamless user interface. This alliance makes the platform more appealing overall and distinguishes it from rivals who might not offer comparable services.
Additionally, NFTFantasy.com's business concept is original and cutting-edge, serving the NFT community. NFTFantasy.com develops itself as a trustworthy and knowledgeable source by concentrating on offering useful data, resources, and analysis for NFT fantasy leagues.
By focusing on a small group of NFT fans and providing them with a unique experience unmatched by generic fantasy league platforms, our specialized approach fills a market gap.
Additionally, using a premium domain name like NFTFantasy.com strengthens the platform's reputation and branding. The PDN immediately explains the goal of the website and closely resembles important terms, increasing search engine visibility and drawing in a specific audience.
With the unique combination of DDS's expertise, the innovative NFTFantasy.com business idea, and the power of a premium domain name, NFTFantasy.com emerges as a standout platform in the competitive NFT market. As opposed to its rivals, NFTFantasy.com stands out from the crowd thanks to its dedication to a seamless user experience, specialized content, and a strong brand identity.
Why DDS Was Essential Choice for NFTFantasy.com Business?
In the quickly changing world of NFTs, NFTFantasy.com understood the value of standing out in a crowded market.
The business concept behind NFTFantasy.com, which focused on NFT fantasy leagues, tapped into the burgeoning interest and passion around the NFT space. By focusing on this specific group of users, NFTFantasy.com has carved out a unique niche for itself in the market by providing technical data, resources, and analysis targeted toward NFT fans.
DDS's experience was enlisted by NFTFantasy.com to realize this objective. The collaboration between Domain Dressing Service and NFTFantasy.com resulted in a visually appealing, user-friendly website that captivates visitors from the moment they land on the platform. NFTFantasy.com was able to create an immersive user experience with the help of DDS by combining fascinating content with improved performance.
By selecting a premium domain name like NFTFantasy.com, the platform's identity, and credibility were further cemented. By precisely aligning it with appropriate keywords and rapidly communicating the website's goal, the PDN improves search engine exposure. This tactical move helped NFTFantasy.com establish itself as a reputable expert in the NFT market, bringing in a niche audience and expanding its reach.
The strategic combination of the NFTFantasy.com business idea, what DDS achieves for NFTFantasy.com, and the utilization of a premium domain name has propelled the platform to success. NFTFantasy.com's commitment to a specialized approach, visually appealing design, and optimized user experience has established it as a leading destination for NFT fantasy leagues. NFTFantasy.com is at the forefront of the NFT industry's growth, offering unmatched value to NFT fans all over the world.
Frequently Asked Questions
As a frequently asked question, people often inquire about the main pages of NFTFantasy.com. These pages include essential information about owning a premium domain name like NFTFantasy.com, highlighting its benefits and advantages in terms of credibility, brand recognition, and search engine visibility.