Exodus.com Domain Sale
Exodus is one of the leading cryptocurrency wallets out there and it offers its users everything that a crypto wallet is supposed to, exceptionally.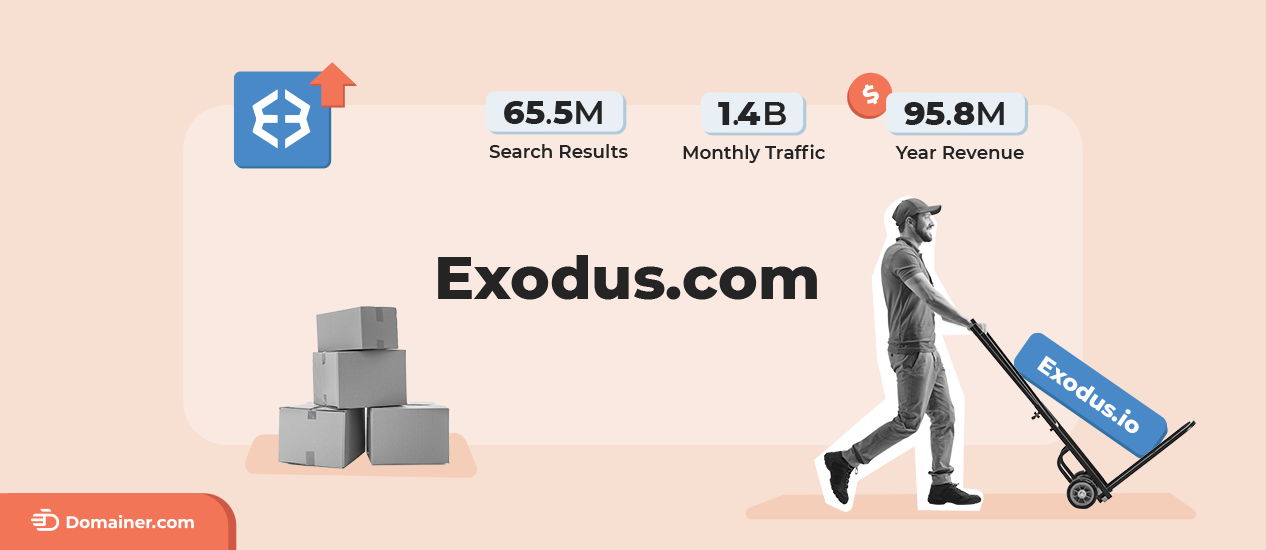 Exodus was launched in 2015 as a new Web3 cryptocurrency wallet. The internet as we currently know it is called Web2.0 but Web3 is a movement that tends to change the internet for the future. Web3 is all about taking away the power from big corporations, by decentralization, and empowering its own users, who own everything. It focuses heavily on blockchains, cryptocurrencies and NFTS. Exodus, being a crypto wallet, fits perfectly within this future. The platform supports over 260 assets and has several products, like a web, mobile and desktop wallet as well as a hardware wallet. As part of the Web3 movement, Exodus also provides support for NFT storage for its users.
Since its launch, the company has gained massive success. JP Richardson, CEO and founder of Exodus, says in a 2021 interview with the CryptoCoinShow that over 1.2 million users trust their platform to keep their crypto assets safe. Since its launch, Exodus was operating under the domain Exodus.io, though in early 2021, the new Exodus.com domain was acquired by the company. Why did the Exodus.com domain sale happen?
Why Was the Exodus.com Domain Name Acquired?
Since its launching in 2015 until February 2021, Exodus operated under the domain Exodus.io. For those unfamiliar with the .io extension, it is a country-specific one, in this case for the British Indian Ocean Territory. The domain name extension .io became highly popular within the tech community because of what it represented. In the Tech community, IO represents the input/output communication between computers and the outside world in the computer science. Many start-up companies can't start off with a .com domain, because it is already taken, in most cases. Hence why they would go to different domain name extensions.
But once the company has settled into its position within the market, claimed its fame and has started earning in revenue, a .com domain is in many cases a priority to acquire. This is exactly why Exodus was after the Exodus.com domain name six years after launching. The Exodus.com domain name sale happened in the first quarter of 2021 and was purchased through the MediaOptions domain brokerage. While many other companies have it easier when it comes to expenses for a premium domain name, Exodus did not luck out. They had to pay a whopping $1.9 million to cover the Exodus.com domain price. This domain sale ranked as one of the most expensive domain sales for 2021, showing how serious it was. Now it's time to consider if paying that kind of money really is worth it for your brand. Should you consider replacing your dull domain name for a premium one, and will the potential high cost be justified?  
Was Purchasing Exodus.com Domain a Successful Move?
As we mentioned, the Exodus.com domain cost really was a heavy one, costing the company $1.9 million. However, having a .com domain name extension is never the wrong move for anyone who wants to improve their domain and their brand. After all, your domain name is the face of your online presence, so it should be a good one if you want to succeed. The oldest domain extension is .com and it is the oldest with register date of 1985. Ever since then, the to-go domain has always been .com.
It is therefore safe to assume that having a .com domain is the best outcome for you, given that people have been accustomed to and have been using for the past 38 years. Even Exodus described their new Exodus.com domain as an indefinite-lived asset. Now let's look how this new acquisition has helped Exodus to grow by comparing the old domain Exodus.io with the new one.
Exodus.io
Year Revenue as of 2020: approx. $27 million
Monthly traffic: n/a
Search results: n/a
Monthly active users as of 2021: 412,197
Exodus.com
Year Revenue as of 2022: approx. $95.8 million
Monthly traffic: 1.4. mil. As of Dec 2022
Search results: 65.5 mil.
Monthly active users as of 2022: 914, 912
From 2015 until the beginning of 2021, Exodus.io accomplished 412,197 monthly active users. But after the domain change, just for a year until 2022, the website doubled these numbers and had 914,912 monthly active users. The Exodus.com domain sale did not only help with the numbers for users, but also for the company's profit. In 2020, the company announced its $27 million year revenue. Just two years later, with the new domain, Exodus was able to increase its yearly revenue fourfold, by earning $95.8 million. If that alone does not scream success, then maybe the monthly organic traffic rankings of both the old Exodus.io domain and the new Exodus.com domain should. Let's check them out to make sure that the newly acquired domain really does wonders.
Exodus.io Rankings

The chart above shows the monthly organic traffic for the Exodus.io domain between its launch in 2015 and end of 2020. Organic traffic is any generated traffic through search engines that is not paid for, like paid-for advertisements that attract users to interact with your webpage. As we can see from the chart, the website was not generating any traffic for its first two years. It slowly started attracting people from around July 2017 onwards. Not long after, in December 2017, Exodus.io attracted the most users it has ever had. The lines shaped a high jump to 385,979 thousand visitors.
The numbers start to sink slowly after and fall below the 100K mark just before August 2018. Until 2020, the website has been able to maintain a nice flow of under 100k average organic traffic. There is another sudden rush of visits throughout 2020 with reaching just above 300 thousand visits. It is clear that the flow of traffic towards the website diminishes quite suddenly around mid 2021, and that is because of the launch of the new domain Exodus.com. Let's see how the change has contribute towards the company's online performance.
Exodus.com Rankings

The Exodus.com domain name has had a much better performance than the older domain. We can see that the amount of organic traffic that the new domain attracted was rising steadily from its launch in 2021. Leading to the highest peak in May 2021, this updated domain welcomed 274,445 visitors. You might wonder, how is this better than the 380 thousand visits that the old domain attracted? Well, the old domain did attract that larger number, for one month only, until it couldn't even keep the numbers around the 50 thousands. Where this new domain improves the situation is by being able to float between 140 and 210 thousand visits. It's also better for being steady and not falling below 140k but briefly rising above 210k.
It's beautiful to see how you can replace your old domain that can barely keep around 50,000 visits, for a new, premium domain name that can quadruple these numbers and maintain them. If your brand needs a domain refreshing, contact Ian Garner over at Domainer.com. Ian has years of experience in domain brokerage and invites you for an initial free conversation to exchange ideas about your brand's progression.
Frequently Asked Questions
If you are impressed by the decision that Exodus took to acquire the Exodus.com domain, then we are with you on that one. Let's remind ourselves why exactly by looking over the most frequently asked questions on this topic: