New gTLDs
In June 2011, ICANN (the Internet Corporation for Assigned Names and Numbers) approved the introduction of hundreds of new TLDs (top-level domains) in order to open up the internet and provide – for the first time – a truly global naming system.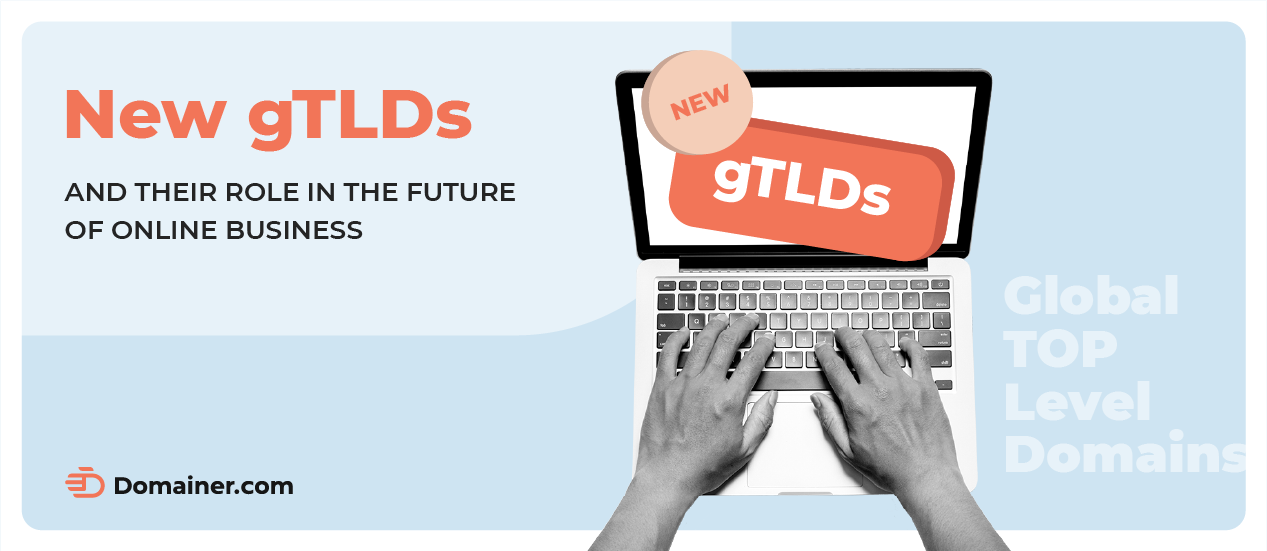 What Is a gTLD?
A generic top-level domain (gTLD) is the highest level of the domain name system. It's what you see in front of the dot at the end of your URL to indicate that it's a website, like .com or .org. There are several hundred gTLDs currently in use across different languages, but most people are familiar with just three types: ".com," ".net" and ".org." These are called generic top-level domains because they're available for anyone who wants them, unlike country code top-level domains [ccTLDs] such as .us. New gTLD extensions were brought in to diversify the current offering.
How Many New gTLDs Are There?
There are more than 1,300 new gTLDs. The first new gTLDs were launched in 2014 and since then more than 1,000 new gTLDs have been launched. Most of these new gTLDs are country code TLDs (ccTLD), geographical TLDs or IDN TLDs that include:
A large number of ccTLDs representing countries across the world such as .au and .uk
Some geographic TLDs such as .asia and .pro
And some IDN TLDs including Chinese characters based on the Simplified Chinese alphabet
With so many new gTLDs being created every day, it can be hard to keep track of them all—but luckily we've got your back! We'll give you a rundown on the best new gTLDs, how many new gTLDs there are now, what types they are (country code or generic), and how they affect SEO.
Why Were New gTLDs Introduced?
The new gTLDs were introduced because the accessibility of original TLDs has become extremely low to most smaller businesses. .com/.net are now considered premium domains because of their high searchability. New gTLD availability has increased significantly due to a number of factors.
The addition of new gTLDs increased choice for businesses while still remaining under one TLD umbrella and provides greater flexibility – increasing the ease to produce name hacks. A name hack is a domain name that uses a combination of words from different top-level domains (TLDs). For example, blog.com and facebook.net are both registered as single word domains under tlds other than .com.
New gTLDs are more difficult to promote than legacy TLD names such as .com/.net because most consumers don't trust websites using newer extensions. While new gTLDs may mean less competition in your keyword search rankings compared to similar keywords using legacy TLD extensions such as ".com", it doesn't necessarily translate into higher SEO rankings because Google in particular prefers .com domains when it comes to ranking results.
Should I Get a New gTLD?
If you're thinking about registering one of the new gTLD extensions, here are some questions to ask yourself:
Do I have a new gTLD strategy? In other words, do I know why I'm registering the domain and how it fits into my overall marketing plan? If not, maybe now isn't the right time for adding a new TLD.
Are there really any benefits from using this domain over something else like .com or .co? Be sure that your goal can clearly be achieved by registering a separate TLD instead of something more generic (or even worse—a misspelled version).
Are there risks involved with buying this domain name? For example, if it has already been registered at another registrar but not yet activated then your purchase could be voided if they choose to activate it first. Or maybe someone else owns trademark rights in some way related to your proposed name—this risk often comes up when people try registering names based on popular brands/products (e.g., "airbnb").
Will a new gTLD resonate with my audience?
Advantages of New gTLDs
Cost – if you're trying to promote your business online but don't have much cash, this is a way for you to get started with very little investment
Availability – some of the best new gTLDs are also more likely to be available than the older TLDs such as .com and .net because there's such high demand
Flexibility – New gTLDs are better suited for creativity and flexibility due to the increased number of possible combinations, such as misspellings or word associations
Some audiences prefer new gTLD extensions because it creates community, for instance the .xyz TLD was adopted by communities in blockchain projects and .io TLD by big tech starts ups.
Disadvantages of New gTLDs
SEO – many experts believe that new gTLDs will actually have an adverse effect on SEO because Google may favor established TLDs over newer ones
Security – measures taken by ICANN are likely to be more lenient on original gTLDs than they are with new ones, which means that there may be fewer security issues with changing over from one type of legacy TLD into another
Legitimacy – consumers still trust and recognise the original TLDs over newer TLDs. There is definitely a status that comes with owning a legacy .com TLD.
More Than Just .com?
Whether or not to purchase a legacy or new TLD really comes down to intent and branding. There is an exciting new world of gTLDs, but in the end, .com is king.
There are so many new gTLDs out there that it can be hard to keep track of them, but we hope this article has given you a good overview of new gTLDs and whether to utilize them for your business. We'll continue to provide updates on this topic as more gTLDs are released, and we'd love to hear your suggestions for future articles like this.
Frequently Asked Questions
There are many questions floating around about new gTLDs and we are here to answer some of the most frequent. If you have any further questions, always feel free to contact us.
Contact Us
We are always interested in getting your feedback and assisting you with any domain inquiries you might have. Drop us a line and we'll be in touch!