Outbound Sales
How do successful, established companies continue to thrive year in and year out? What selling tactics do they deploy that ensure the consumers keep coming back?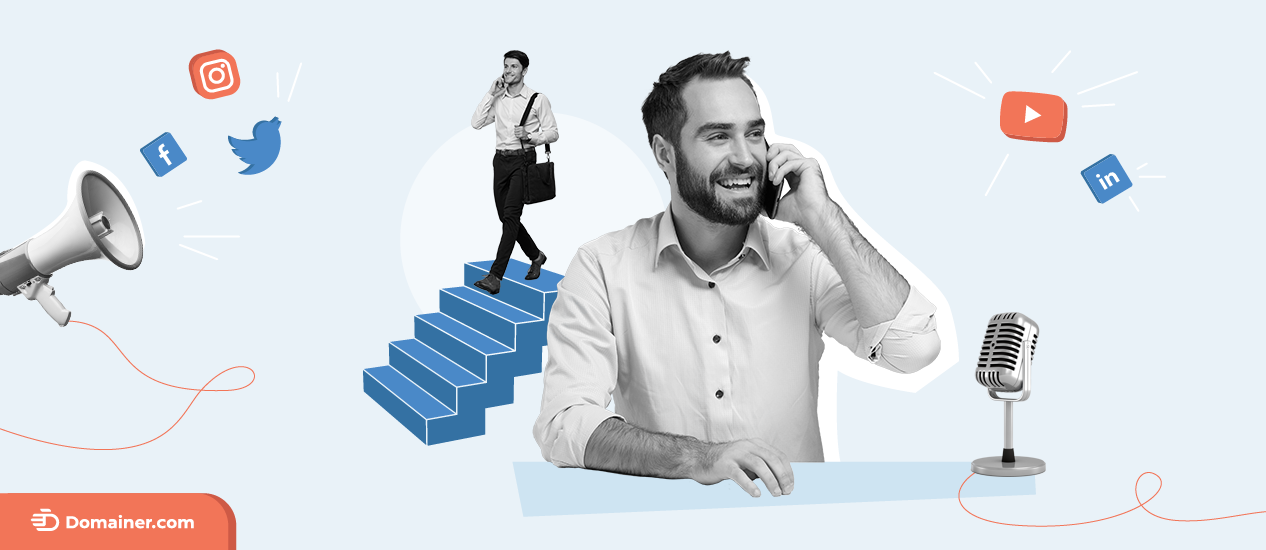 We can answer those questions with two words – outbound sales. There are many different outbound sale strategies that are heavily relied upon in the marketing industry. Companies all over the world use various sales techniques to scale their businesses. In essence, during the outbound sales process, companies reach out to prospective consumers to introduce the products or services on offer in the aim to convert them into paying customers. In this article, we are going to look into some of the most valuable outbound sales techniques.
All You Need to Know About an Outbound Sale
An outbound sale usually consists of an internal representative that initiates engagement with a potential consumer. The outbound sale meaning can be split into two parts. 
Outbound Prospecting
Outbound prospecting also known as 'lead generation' is a more targeted form of outbound sales. The general aim is to accumulate data of potential clients. As you can imagine, pitching any service or product to a target audience is not only much cheaper, it will generate much more positive leads. When you search for a gift for your pet snake, there's a good reason Google will start showing you ads of remote controlled mice for the foreseeable future! 
Difference Between Sales Outbound and Inbound
Outbound and inbound sales strategies are both absolutely crucial to any thriving business. Since cash generating leads are the very essence of most sales teams, it is critical to be flexible and utilize both techniques to help make sales conversations in an ever-changing environment. In the table below, we look at comparison of the main characteristics of outbound vs inbound sales.
Outbound Sales
Outbound sales primarily focus on delivering a message to a broad audience including prospective consumers that have not exhibited interest in the products or services offered by the company.
Paid media such as advertisements, cold calling, bulk emails, social selling
Reach more people, faster turnaround to generate sales, can be easily automated, builds a predictable revenue forecast
Requires more time and resources to build rapport, can come across as spam, high cost
Generally used as a 'catch all' to make as many sales as possible
Faster return of investment
Inbound Sales
Inbound marketing is way more selective and aims to attract a specialized consumer that has already shown an initial interest into whatever the targeting company is selling.
SEO, content creation/marketing, social media contact pages
Reach targeted leads, increased brand awareness, generates repeat business, creates consumer trust
Requires a long term commitment, expensive marketing plans, reliable analytics models
Generally used to educate potential consumers with precision marketing
Slower return of investment
As you can see the differences between sales outbound vs inbound are completely unique with their techniques. However, both are extremely effective ways to increase traction with your customers which will ultimately result in increased revenues. Additionally, a good understanding of these sales concepts is crucial, so the correct approach is applied to target the right potential consumer.
Best Ways to Chase After Your Sales
Following up on customers that have shown an interest in your product is big business, not to mention its high sales conversion rate. It is critical for any business to follow up any sales leads. Yes, it's important to try to seal the deal, but it's even more important to figure out why the sale did not go through in the first place. Believe it or not, it's the none-conversions that offer the greater insight into any sales campaign. 
Maybe the sale didn't go through because there's an issue with the checkout payment method? Maybe the customer couldn't navigate your website? Maybe your shipping costs are too expensive? Following up on any sale, whether converted or not is paramount to any business. 
Outbound Sales Best Practices
Here are some of the best ways to chase your sales:
Live Chat
We've all ventured onto a random website and when you're about to leave, the live chat springs into action. The live chat option offers a lightning response to questions that might arise. Nowadays, the live chat is probably the most efficient way of chasing your sales as it helps significantly with instant conversion of leads to paying customers.
Social Selling
Social selling has exploded onto the scene in recent years. Did you know that companies with regulated social selling processes are over 40% more likely to hit their revenue goals, according to smallbizgenius.net? Engaging with prospective customers on social media platforms is always going to be beneficial and boost the sales figures.
Existing Customers
Existing customers have always been part and parcel to any outbound sale. They already trust the brand. Who else would be better to gain valuable insight into existing and upcoming projects? Hence, it's very important that existing customers are happy with the service / product provided and they will be coming back for more!
Guest Star on a Podcast
Celebrity has always been a go-to method to generate outbound sales. In theory, if the product is good enough for a celebrity, it's good enough for us mere mortals. Having a star guest promoting a product on a podcast is always going to yield amazing sales.
Webinars
Marketers are always on the lookout for new methods to improve their sales strategies and webinars are very effective in bringing brand exposure to the table, especially as those attending have already a keen interest in the topic.
Reach out to Your Visitors
So what is an outbound sales advisor we hear you ask? An outbound sales representative focuses on one thing and one thing only – sales. Whether that's through emails, calls or face-to-face interaction, their end goal is always the same.
Sales Strategy Worth Using
There are many sales strategies worth using in today's current infrastructure. Since the dawn of the internet, outbound sales strategy has changed beyond recognition. Dated techniques such as snail mail and door-to-door sales pitches will soon become a distant memory.  
The internet has completely revolutionized outbound sales strategy. Nowadays, people carry the internet in their pockets, which in turn offers marketing campaigners a huge opportunity to reach almost anyone at any given time. Whether outdated or not the blueprint for the best outbound sales strategy has always been the same.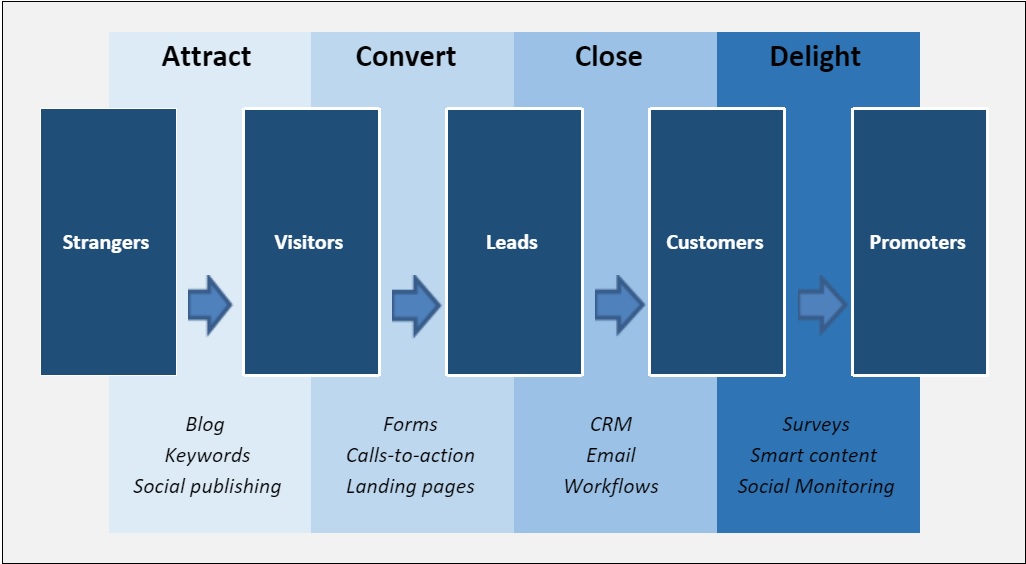 As you can see from the above blueprint, the path from "Strangers" to "Promoters" is a complex process and companies spent a small fortune on fine-tuning each step along the way. We take a further look at some of the most successful sales strategies worth using below:
Build an Outreach Plan
Building an outreach plan is critical to any business looking to flourish in the long-term. Many companies fail to recognise the importance of prospects and often pursue fruitless campaigns that waste money, time and other valuable resources and as a result, are destined to fail. 
Here are some interesting facts to bear in mind when it comes to planning sales – outbound. 
Only 20% of buyers prefer cold calls to cold emails
45% of sales experts said the telephone is their most valuable asset 
55% of businesses use at least 10 different channels to communicate with their clients
88% of consumers said they seek referrals before opting to make a purchase
69% of buyers said they would most likely make a purchase if a seller pro-actively reached them directly with a solution to their problem
Personalized Emails
Personalized emails are a very cheap, yet an extremely effective way to reach potential customers. As simple as a personalized email might sound, there's a lot of behavioral science behind them and with a good reason. 
The average person receives almost 140 emails per day. Almost all of them are sent to either the spam or deleted folder. Hence, your personalized email needs to stand out from the crowd. Here's a few tips and tricks:
The 'From' Name – The 'from' section is the most prominent displayed element of an email. If you're going to send a personalized email,  make sure to use a real name. Emails sent from "marketing" or "contact" are likely to end up in the spam folder. 
The Subject Line – Research shows by adding
the recipient's name in the subject line, a whopping 28% are more likely to open the email! 
As you can see, by just making a couple of tweaks to your personalized email, the conversion rate can increase substantially.  
Outbound Sales in the Domain Industry
Outbound sales in the domain industry play a huge role with some of the highest sales on the domain market. Did you know that the world record sale for domain name, cars.com, was set in 2020 for $872 million? Yes, that is not a typo. 
When dealing with such high figures for purchasing domain names, it's important to have a domain broker working on your behalf. Would you purchase a house costing a small fortune without a broker working for you to make sure everything is above board? Of course not, and a domain broker works with exactly the same methodology. 
Purchasing a domain name can be a somewhat frustrating process, especially if your business needs a certain domain name that is already registered with another person. This leaves you two choices; purchase another domain name or allow an experienced domain broker to handle the outbound sales for you.
A domain broker will identify the domain's current owner and negotiate a fair price, should the domain be for sale. The broker will also coordinate all the relevant paperwork and complete the transfer process, should it get to that stage. 
Domain Name Sales in the US
Domain outbound sales have dramatically increased over the past few decades. As commerce has continued to shift towards the internet over the past few decades, domain sales have skyrocketed as webmasters look to cash in as the world edges closer to a new digital era. 
With almost 360 million domain names registered to date, domain name sales have been on the rise, approximately 4% year-over-year for decades in the US. Outbound sales are a critical component when you are selling premium domains. If you're unsure on how to own your very own premium domain, why don't you contact us at Domainer.com. Take a look at the table below on how these premium domains are on the rise in the US.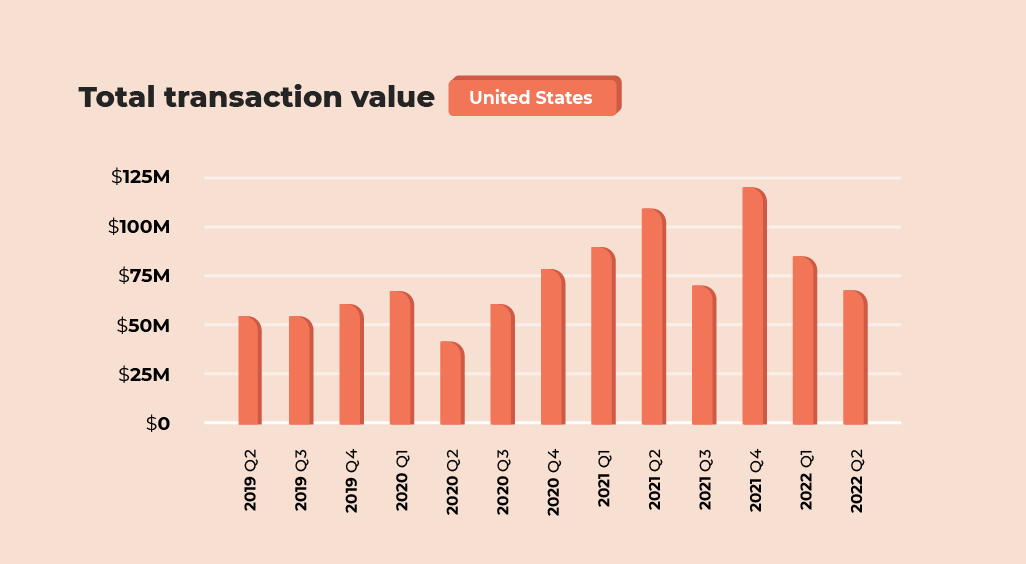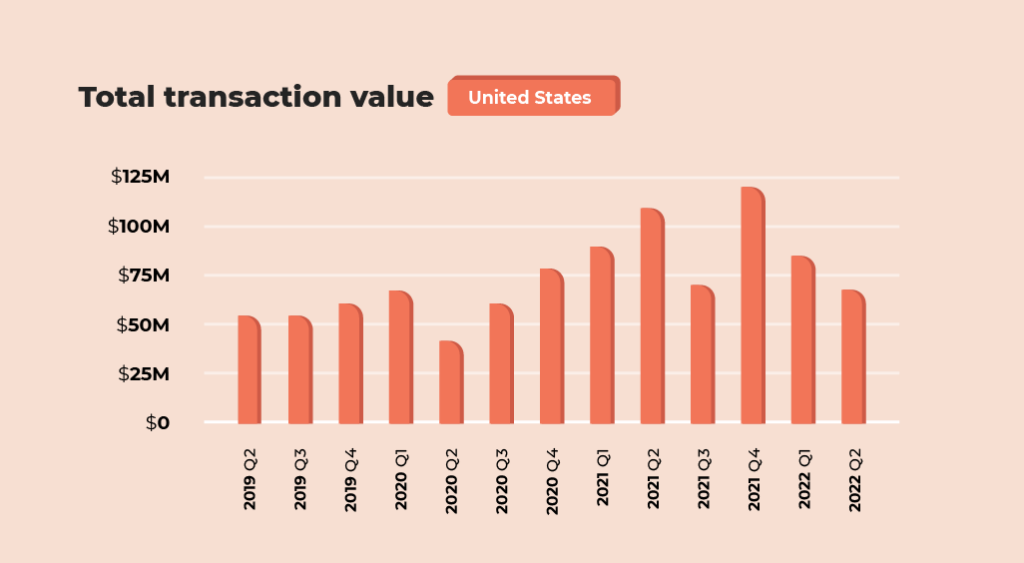 As we've created the graph showing the US, it is a true reflection of how premium domains are on the rise globally. It is considered by the year 2050, there will be over 1 billion domains sold on the marketplace. There's never been a better time to grab yourself an experienced domain broker service. 
The Secret of Domain Brokerage Success
The secret of a domain brokerage success can be broken down into two parts. Of course, as with most job positions, experience is key. To be a successful domain broker, one must have a vast knowledge of internet marketing. Only once the broker can work their way around the vast set of marketing tools and have good knowledge on how search engine optimization (SEO) is implemented, can the broker find the most important factor for a domain broker success – value. Why not get in contact with our in-house outbound sales experienced expert, Ian Garner, to help offload the tricky process?
Having the ability to know what a domain's true value is critical for any domain broker. They can break down the domain metrics, such as the domain's history and authority and then make a value judgment. Who wants to be paying way over what the domain is worth? On the other hand, if you have an authority domain, you wouldn't want to sell it for a million bucks less than its worth! That's exactly why people hire domain brokers. 
Frequently Asked Questions
In this section, we are going to take a look at some of your common questions in relation to both, sales outbound and inbound and hopefully give you an overview of the subject.