Premium Domain Names as an Investment
In this article, we will introduce you to investing in domain names and the reasons why they can be a valuable investment.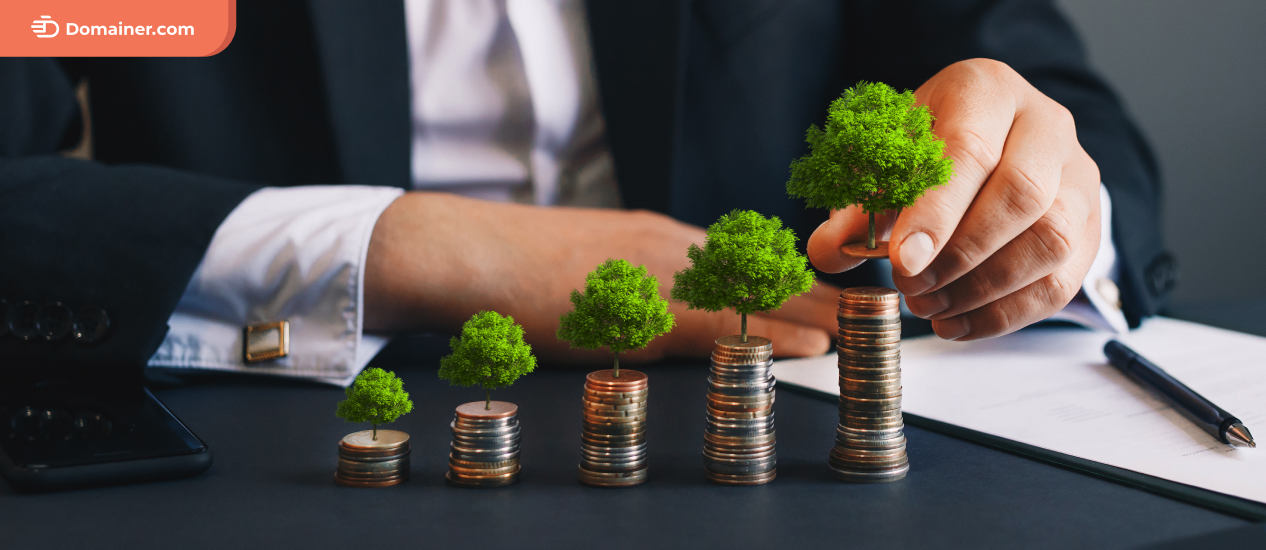 Premium Domain Names as an investment could be a good way to diversify your portfolio.
First, let's start with an explanation of what the domain name is, that is the name of your website, it is the address that users write when they want to go to your website. Every domain name is unique and its price varies.
There are two types of domains – regular domains which are at the standard price and premium domains which have a higher value, strong keywords, and a lot more benefits.
Premium Domain Names can generate profit in multiple ways, defined by the monetization strategy that you decide to use. It can include placing advertisements or affiliate links on the website or selling the domain to other investors, or to businesses.
What Is a Premium Domain Name?
A premium domain name is a high-quality domain with a strong brand opportunity. They are short, catchy, and memorable, already registered to a person or organization, and also have higher commercial value, and can help a business to establish credibility. These names have many qualities that allow them to exceed others in the key function of a domain, they help users find the website they're looking for. Premium domain names are previously registered but are available for sale by brokers, or domain marketplaces.
That is why investors often buy and sell it in order to make a profit.
Why Are They Valuable Investments?
Buying a Domain name is a way of investing on the internet because it is a kind of digital asset.
On one hand, if you want to make your own business, you can only earn, because having a premium domain name can determine your success and it usually pays in the long term.
On the other hand, you can buy it as an investment to expand your investment portfolio, because the price of a good premium domain name can be increased drastically in the future.
For example, YourRide.com was bought for 132$ in 2004 and sold for 300,000$ in 2023. The numbers prove that investing in Premium Domain Name is a wise choice, and the domain industry is stable and growing.
It can be considered as a safe investment, but it still should be treated as an investment. It is worth saying that you can earn for your registered domain name if you find advertisers for it and get a percentage of the visitor's traffic.
| Domain Name | Bought | Date | Sold | Date |
| --- | --- | --- | --- | --- |
| YourRide.com | $132 | 2004 | $300 000 | 2023 |
| Yachts.com | $350,000 | 2021 | $600,000 | 2022 |
| Call.com | $1,100,000 | 2009 | $1,600,000 | 2022 |
| Insurance.com | $35 | 1996 | $35,600,000 | 2010 |
| FiveBucks.com | $2,373 | 2018 | $60,000 | 2022 |
In this table are shown a few examples of good investment in premium domain names. You can make your conclusion about the time of return on investment and the margin. Also, as you can see, in the last few years, the prices have been getting higher.
Pros and Cons of Investing in Premium Domain Name
nvesting in Premium Domain Name can be a good idea but as with any investment, you should consider the pros and cons of doing that. Because at the end of the day, they, like any other investment, have some risks.
You should consider such things as Liquidity, because domain names can be much harder to sell. Subjectivity – domains are a much more subjective valuation that can be very difficult to pinpoint. Legality – choosing names that are too close to a trademarked name can result in a lawsuit and a court order to forfeit the domain name for free.
Pros
Let's observe the benefits of investing in premium domain names
They are more valuable than any other type of domain name.
The premium domains are more likely to be found by users.
You can earn passive income from investing in domain names.
It's a good way to diversify your portfolio.
Premium domains have minimal holding costs.
Cons
Before you invest in a premium domain, it is wise to consider the risks involved.
They are more expensive than the others domain.
There is no guarantee of revenue or appreciation in value.
Domains are officially classified as digital goods, so it can be difficult to seek a refund if things go wrong.
They are long-term investment.
They have limited liquidity.
When considering purchasing a premium domain name, you should consider the benefits and potential drawbacks before investing. The purchase of a premium domain name can provide you benefits, but still certain factors need to be taken into account.
How to Identify High-Value Domain Names
High-value domain names have just one or two words, that is because shorter names are easy to remember and easy to type in the search bar. In most cases, domain names consist of meaningful words that are easy to remember and add value to your domain. Also, keywords-based names add value to the domain. In most cases, domain names do not include numbers or any other special characters. Easily pronounced domain names have a higher chance of remembering. They have the .com net, .org extension; they are much more in demand than LTD-s. If the domain name already contains an important search term, the web address will most likely get a higher price. A premium domain name used in the past can have a traffic history. Think of that traffic as a potential prospect coming to you without having to attract them to your website.
Monitor the Market for Potential Opportunities
Let's focus on the market in order to understand where to look for new opportunities for your domain investing. There are a few places where you can search for premium domain names:
Premium domain names can be found on the aftermarket, where people sell domains that they have already registered, or could be designated by registries.
You can find domain names on domain marketplaces. This is where users can list their domain names for sale, allowing others to search, make an offer, or directly purchase the name at a premium price.
Finding domain mames for sale on forums– There are thousands of online communities and forums where website owners can discuss online business ideas, marketing techniques, and building websites.
Domain brokers – You can acquire a domain name by using the expertise of an experienced domain name broker. This way, you will have an expert by your side, taking care of your interests, and will help you avoid some of the most common traps related to that purchase.
Conclusion: Is It Worth Investing in Premium Domain Names
ike any investment, domain names come with their own risks, but for diligent investors who consider the risks and returns thoroughly, domain names can become an investment that yields high returns, and a unique way to diversify his/her portfolio of investments. You can keep a domain for 15 years and still sell at a considerable profit. While you are waiting to sell it you can monetize the domain, which in turn can justify the cost to the buyer.
The biggest mistake people make is listing their domain for sale without knowing how much it's actually worth. They either end up:
Overpricing the domain and it never sells
Underpricing the domain and it sells quickly for way too little
Premium Domain Names as an investment can provide a significant return over time.
The key is to have patience.
The other key is to find the right buyer.
When you buy a domain, it will take time to find the right buyer who values the domain name at the right price.
If you do both of these things well, you can make a very good profit from trading domains.

Contact the expert
Need to discuss buying your domain with a domain expert? Fill in your details and Ian will come back to you!
Frequently Asked Questions
With this article, we hope you find the answer about investing in domain names and if doing that is your best choice. You can find the answers to the most common questions in the section below.