Real Estate vs Domain Investment – Why Are Domain Names Compared to Real Estate?
Domaining is very similar to the housing market – there are some expensive and some more affordable areas. And there are regions with an established history and some newer developments (like NFT and blockchain domains).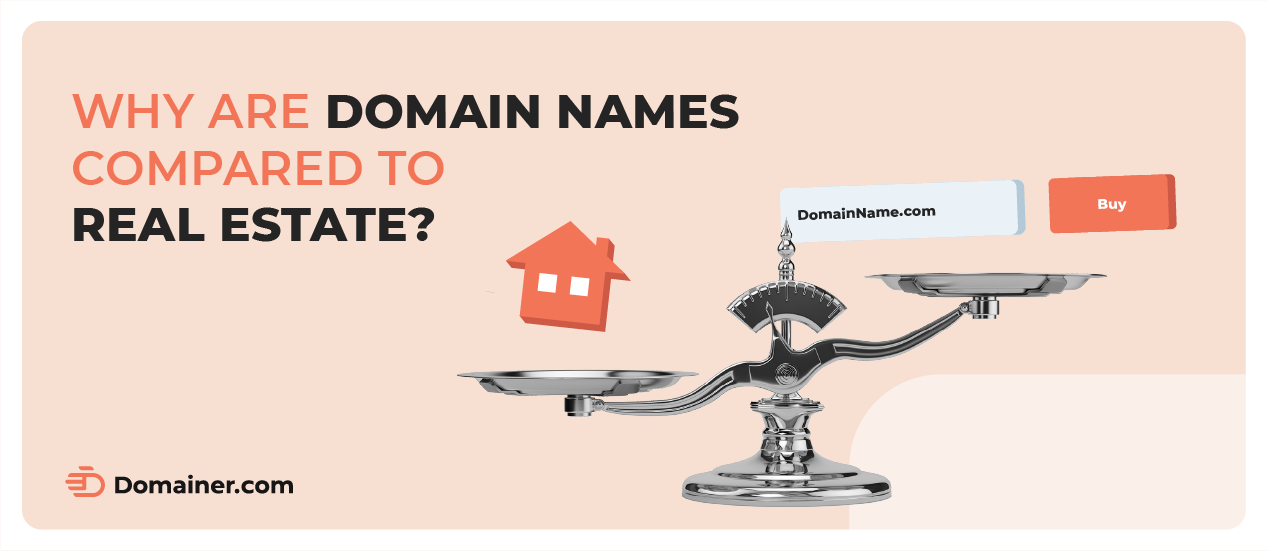 Domaining is very similar to the housing market – there are some expensive and some more affordable areas. And there are regions with an established history and some newer developments (like NFT and blockchain domains).
When we talk about real estate vs domain investment, there are a lot of similarities and one key difference – you cannot put your hands around them. But that doesn't mean they are not a good investment – just the opposite- they are better. Domains don't have property taxes. They don't have tenants to deal with. And they definitely don't have termites or toilets to repair.
And unlike the housing market, there are still opportunities out there for both long-term investors and first-time buyers.
Domain vs Real Estate – What are the Similarities?
Real estate is usually the go-to asset for people and businesses in the physical world. And as the virtual goods continue to gain (and hold) real value, it's important to consider your digital real estate – the domain names.
In the physical world, property changes because of many factors, very similar to the domain industry:
Location is the king for both real estate and domain names. Factors such as accessibility, appearance, and plans for the development of the property (whether we are speaking of real estate or domain names) are of great importance. Because at the end of the day, the real estate that holds the best location and a premium domain name that is short, catchy, and easy to remember will have the highest ROI on your investment.
One major reason domain names haven't just run out is that the new "neighbors" have spread to allow more choice and availability. Since 2012, more than 500 TLDs (top-level domains) have been added to the Internet covering everything from .abb to .zw, thus providing a great variety to the legacy .com extension. Unlike the early days of the domain industry, where the choices were limited, now you can easily register your local business under .london of your dealership under .luxury.
The hottest properties in the domain industry are premium domain names. Premium domain names are the mansions of the domain name market – they always hold high value, increased rarity, and uniqueness and are always a target for serious investors.
An Overview of the Domain Industry
The demand for domain names never seems to run out. New businesses pop up every day, and they need domain names to match their brand (and tie out an email address).
And the gold standard for a domain name is a premium domain name – a short, memorable, easy-to-spell name, followed by .com. Having a domain name that checks those boxes lends business authority and memorability. And that's why serious brands are ready to pay top dollar for such a vital brand asset.
Talking about domain vs real estate, there is one key difference – unlike investing in physical real estate, purchasing (and selling) digital real estate (domain names) isn't a well-documented process. The domain industry is still opaque and difficult to figure out, and especially if you are new to it, it might feel like the Wild West.
The domain industry is full is domain registrars, buyers, sellers, and auction houses, all of which, taken together, might seem overwhelming if you are just starting out. To rule out ambiguity, new and seasoned investors rely on trusted domain broker with a proven record who knows the ins and outs of the domain industry. And if you are looking for such a broker, you can contact Ian directly here.
Domain Investing is The New Real Estate Investing
Although real estates continue to fluctuate, one investment has gone undisputed through pandemic and recession – domain investing.
And here, it's important to differentiate domain investing from the other strategies people use to make money in the domain market, like domain flipping. Domain flipping is purchasing a domain name and then selling it shortly after that (usually a few days or months). There is nothing wrong with this strategy, but we cannot talk about domain flipping vs real estate because the first is a short-term investment while the other (usually) is a long-term game.
Domain investing is the real deal that holds long-term value when approached with vision and strategy. Here are some reasons why domain investing is on the rise, and why it's worth considering it:
Safety
The goal of real estate is to purchase low and sell high. But with high upfront costs, the high expenses related to the acquisition, and the tremendous effort required to maintain the property, often the return on investment is not as compelling as we wish it would be. However, if done right, domain investing can be a low-maintenance investment. And if purchased strategically, domains can appreciate over time. So, when we talk about real estate vs domain investment, domain investing is sometimes the safest bet.
Premium Deals
What makes domain investing attractive is an opportunity to acquire a domain name worth a Beverley Hills property. Generally, the better a domain name's quality is, the stronger the return is. And just like real estate acquiring those domain names takes strategy, vision, and foresight. Almost all high-quality domains (especially those providing six or seven figures return on investment) are already taken, and the best way to add a premium domain name to your portfolio is through a trusted domain broker.
There is Always Money in Domains …
Many investments have caught investors' attention in the past. But there is no other investment like domain names whose value is not to wane anytime soon.
The truth is that there is always money in domain names (especially premium domain names). First, they are recession-proof. Second, the demand is in supply. There are still places like India, where half of the population is still not online. And as more people are coming online, the demand for new websites and hence domain names will only increase.
To exist on the Internet, one will always need a domain name. And that's why domain names are a great investment. And that trend is not going anywhere…Not for a lifetime.
If you are looking for an experienced domain broker, you can always contact our lead broker – Ian Garner, here.
Frequently Asked Questions
Here you can find answers to some of the most frequently asked questions.