Domain Dressing Service and MetaverseConcerts.com Collaboration
Our Domain Dressing Service (DDS) offers businesses a head start by providing assistance in choosing the best domain for the brand, a beautiful landing page with the best SEO (Search Engine Optimization) possible, and much more.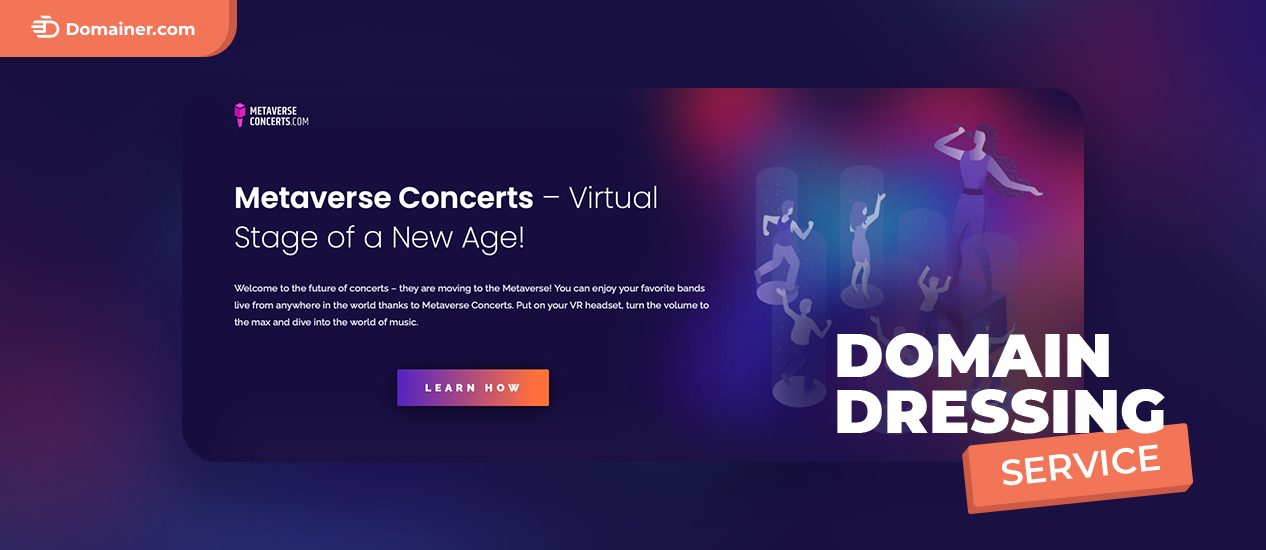 Our belief is that business owners should focus on developing and perfecting their business idea. That is why our team of professional web developers, SEO experts, copywriters, and domain brokers are here to do the rest so our clients can focus on their goal – making their business idea a reality.
When our Domain Dressing Service and MetaverseConcerts.com collaborated, we created a project worthy of taking a significant role in the digital concert world. In this article, we will shed light on how we achieved that.
As we mentioned later on in this blog, we will dive deeper into what our service achieved for MetaverseConcerts.com. Still, if you want to learn more about the details of our Domain Dressing Service, we strongly recommend watching our YouTube miniseries hosted by our lead domain broker Ian Garner where he explains our service at a deeper level.
What DDS Achieves for MetaverseConcerts.com?
What our DDS achieves for MetaverseConcerts.com is to create a domain ready to be adopted by a business. Unlike parked domains, which are domains that are not used and left to collect dust waiting to be purchased, we believe that a domain should be optimized so that it has a head start when it is launched into the market.
That is why our Domain Dressing Service was so crucial for MetaverseConcerts.com. We created a perfect landing page reflecting the business idea and generating interest in the project before it was even launched. We also built an SEO so that when the domain starts to operate, it is immediately shown higher in search results.
For MetaverseConcerts.com, we didn't just want to sell a domain but to build a home for people passionate about music and the metaverse.
Business Idea and Market Research
Now let's go over what MetaverseConcerts.com is actually about. As the domain name suggests, it has something to do with the combination of the metaverse world and concerts. But what is the metaverse? Metaverse is a virtual world created by developers to create a reality that can be explored in the comfort of your own home using virtual reality goggles.
Metaverse concerts are exactly what you think – concerts led in the virtual world of the metaverse! Although it is a fairly new thing, a lot of renowned artists have jumped into the idea and participated in digital concerts using a scan of their bodies and performed in front of thousands through metaverse technology.
MetaverseConcerts.com is one of the first to jump into this new and exciting world by offering news and announcements of events and performances of famous bands and favorite artists, bringing music enthusiasts to enjoy digital concerts to their fullest.
Selecting the right domain name was very important for this project as it is key to attracting traffic to the website. The domain is composed of two words – Metaverse and Concerts targeting the target audience – metaverse enthusiasts and music enjoyers. As people's attention span is becoming shorter and shorter, we need a simple and clear domain name because that is what will grab people's attention first in the overpopulated world of domains.
Our team of experienced market researchers is here to help find the best domain name matching the business idea and is made to attract its target audience as we did with MetaverseConcerts.com.
SEO Strategy
A good SEO (Search Engine Optimisation) is one of the most important things for the success of a website. It shows the page higher in search results, which makes it more trustworthy, boosting the page's organic traffic.
But how does it work? When a website is released into the world wide web, search engines scan its content and check if it is a high-quality page. When the website is scanned, the search engine gives it a rank which determines how up in search results it will be shown and how visible it will be to the users.
To achieve a good ranking on our landing pages, our team of SEO experts uses these techniques to boost our websites to the top of the search results :
Meta titles – When a person looks something up on a search engine, the websites that pop up in the search results have titles showing the topic of the page. Those are the meta titles. Meta titles are related to what people search for. That is why our team creates meta titles with popular keywords so that our websites can be in as many search results as possible.
Meta descriptions – Meta descriptions are the text just under the meta title. They give more information about the content of the page. Our copywriters make sure to write interesting and pleasing-to-read meta descriptions in order to attract more visitors.
Backlinks – A backlink is when another website has a link to our page through anchor text. Backlinks are very important for SEO rankings making the website more trustworthy.
Keywords – Everywhere in our landing page's content, meta titles, and descriptions, we include keywords popularly used by people interested in the subject of the website. Keywords are crucial for the organic traffic and search engine ranking of a page.
Our Domain Dressing Service offers the best Search Engine Optimisation, ensuring that your page will be shown at the top of the search results of your target audience, bringing traffic to your business.
Content
The content of a website is one of the most important things for its search engine ranking. We improve the SEO by using certain keywords, showing the search engine that the content is relevant to the theme and purpose of the page. It is not enough to just use keywords, as just inserting keywords everywhere may cause the text to seem forced and can even lower the search engine ranking of the website.
Because of the importance of a website's content and its keywords, we have assigned a team of copywriters specializing in not just using keywords in the right place but also creating captivating text making the visitor want to keep reading and growing their interest in the page.
In the case of MetaverseConcerts.com, we are met with an exciting slogan and welcoming sentence building rapport and interest, making the reader want to learn more. Further down, it is explained what exactly the metaverse is and how it is combined with concerts to create this new thrilling business idea. We build trust in the viewer by showing them famous and renowned artists who have already jumped into the idea.
Design
At Domainer, we base our design philosophy on simplicity. We believe that a website should look as clean and sharp as possible and be rid of all distractions for a seamless and focused reading experience. We remove all unnecessary effects and clutter that could distract the reader from the purpose of the site – inform about the exciting MetaverseConcerts.com idea.
Different colors can awaken certain emotions in people. That is why our team of web designers put a great effort into selecting the right colors. For MetaverseConcerts.com, we chose the colors red and dark purple. Red evokes a feeling of excitement and passion, and purple evokes creativity and imagination.
With a simple and clean design and bold, exciting colors, we aim to make the website interesting without any distractions allowing the visitors to effortlessly go through the page.
Code
At Domainer, we understand that creating a good webpage is difficult, especially its code. It's expensive, synchronizing with the web developers is difficult, it's very time-consuming, and you are often met with barriers costing you even more time and money.
With our Domain Dressing Service, you don't have to worry about that because our team of professional web developers focuses on making your landing page as snappy as possible by writing optimized code, ensuring a fast and smooth user experience and a boost of search engine rankings.
When the code for the landing page is written, our team of developers goes through each line of code, making sure that it is short and simple so that our code is very easy to read and understand. A simple and readable code makes future updates and modifications much easier.
How Owning a Premium Domain Name Like MetaverseConcerts.com Is Beneficial?
There are a lot of benefits when talking about owning a premium domain name like MetaverseConcerts.com, and we will get into what those are, but what is it that makes a domain name premium?
Brandability: The uniqueness and distinctiveness of a Premium Domain Name give businesses the possibility to become a recognizable and memorable brand.
Keyword relevance: Premium Domain Names contain keywords related to the business niche. The presence of keywords in a Premium Domain Name allows the website to be shown more often and higher in search results leading to better traffic to the page.
As for MetaverseConcerts.com, the domain name very well targets the website's niche making it very easy for Metaverse enthusiasts and music lovers to find the website in the wild.
Short and memorable: Simplicity and memorability are what really make a Premium Domain Name valuable, as it is what will set it apart from all regular domain names out there. Furthersome simple and short domain names are usually more appealing and linger longer in people's memory.
Extension: Domain extensions also play a big role. Extensions such as .com or .org are the most popular out there and make the user feel more trust in the business. The .com extension for MetaverseConcerts.com makes the page look more professional and credible, making it more appealing and trustworthy.
Choosing the right domain name for MetaverseConcerts.com was crucial for the website. We chose the MetaverseConcerts.com premium domain name because of its brevity and simplicity, consisting only of 2 words – Metaverse and Concerts, which are keywords perfectly matching the website's theme and niche. And for the cherry on top, we used the .com extension giving the domain credibility and a more professional look.
If you want to dive deeper into the world of Premium Domain Names, we strongly recommend reading our article specially written to give you more information about the subject.
Experience the future of live entertainment with MetaverseConcerts.com, the premium domain that transports you to mesmerizing virtual concerts, uniting music enthusiasts from around the world.

Ian Garner
Domain Broker of Domainer.com
This quote by Ian Garner, our lead domain broker here at Domainer, very well expresses the unique MetaverseConcerts.com idea and how a premium domain name like MetaverseConcerts is key to attracting music enthusiasts and bringing them together in this exciting project.
Why MetaverseConcerts.com Is Different from Their Competition?
The MetaverseConcerts.com Business idea is truly exciting and unique, bringing news about this new technology combining our favorite artists with the digital world of the Metaverse. This innovative technology enables music fans to feel the excitement of being at a concert by their favorite artist from the comfort of their own home. You may think that this may not be a popular thing and no famous artists would do a concert in the metaverse, but that is not true.
Renowned artists like Snoop Dogg, Justin Bieber, The Weeknd, Travis Scott, and Ariana Grande have already jumped into this idea and have performed in front of thousands through the metaverse.
What really made this idea a reality and enabled it to stand out was the collaboration between our Domain Dressing Service and MetaverseConcerts.com. The business idea is bound to attract followers through its simple and memorable premium domain name and beautiful landing page, spiking interest in the visitor's mind. Not to forget our team of SEO experts who worked really hard to optimize the website so it can be shown on top of search results so it can be seen by as many people as possible.
Why DDS Was Essential Choice for MetaverseConcerts.com Business?
The collaboration between our Domain Dressing Service and MetaverseConcerts.com was crucial for building a presence in the digital concerts industry. We took the unique MetaverseConcerts.com business idea and made it a brand by using our expertise in domain dressing.
First, our team of domain brokers chose the perfect premium domain name aiming to attract our target audience – music lovers and Metaverse enthusiasts by combining two keywords that have been used most often when searching for these subjects, ensuring good traffic to the page.
After that, our team of experienced web developers meticulously crafted a landing page built to capture the visitors' attention and make them want to read more about the project. By using bold colors, we evoke feelings of excitement and creativity. The website is built on code that is not only very well-optimized but also simple making it easy to understand for future developers.
What our DDS achieves for MetaverseConcerts.com is building a good search engine standing by using meta titles and descriptions, and backlinks, boosting the site's SEO. Furthersome, our team of passionate copywriters put thought behind every word in the page's content utilizing keywords related to the niche of the project, captivating the reader, and informing about MetaverseConcerts' unique business proposition.
At Domainer, we don't just sell domains. We make business ideas a reality. We ensure that when the domain is adopted and starts being used, owners will have a head start, not having to worry about search engine optimization and creating a connection with its customers as we do that for them.
If you want to learn more or are interested in purchasing a domain, feel free to contact our lead domain broker Ian Garner so that we can make your business idea not just a thought but a reality.
Frequently Asked Questions
Here are answers to the questions related to owning a premium domain name like MetaverseConcerts.com we get asked the most.