Hire a Domain Broker
Hiring a domain broker is an important part of closing a successful deal.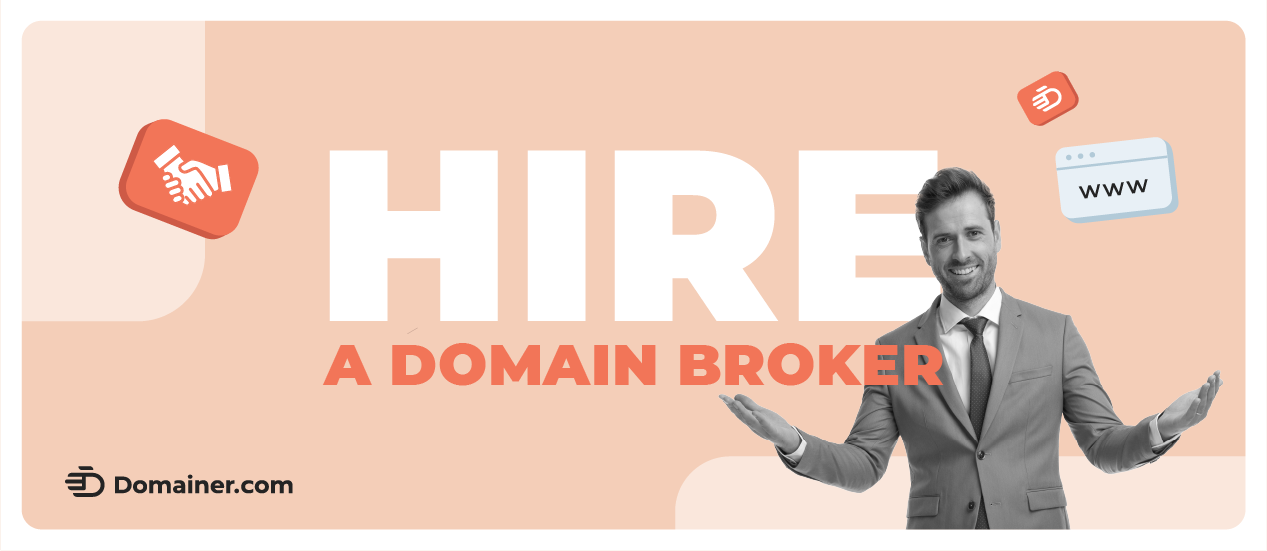 Like every other investment, buying a domain name has some risks in it. To minimize them and obtain the best possible deal, you will need to hire a domain broker. He could spare you headaches and financial losses. So, how to choose the right one?
Most Common Reasons to Hire a Domain Broker
There could be many reasons to hire a domain broker. Learn why you should not tackle the deal on your own.
The domain broker will keep your anonymity if you would like to. Many buyers of 6+ figure domains prefer this, instead of becoming famous. The domain broker can do the job on your behalf and your name will not be placed on any website or catalogue.
Your anonymity will also be invaluable during the negotiations, where unscrupulous domain owners might use your identity / success / business, against you when determining the price point for the domain name.
The domain broker has a lot of sales experience and possesses higher negotiation skills, so they can arrange much better price and conditions for the deal. You may be surprised by the results, at the end of the day.
Another advantage is considering that nobody likes paperwork and getting acquainted with tough and unfamiliar processes. The domain broker will help you finish the task and lead you through the entire process.
Every Deal Is Unique and Challenging
Every domain name is specific and has its strengths and weaknesses. A good domain broker can identify them and use them when negotiating with the owner or buyer. So, even if you offer a higher price, you may not get the domain name deal completed, due to lack of experience.
Find Your Ideal Domain Quickly
In case your favorite domain name is already taken, you may want to find similar domain names for sale. This is one more reason why you would want to hire a domain broker. They may help you and you can work together on obtaining the ideal domain name.
Negotiate the Best Domain Price
No matter if you are selling or buying a domain name, the broker can help you find out the real value of the domain and set a correct price for you. This will facilitate the deal and neither of both sides would feel at disadvantage. There is no need to pay unreasonable prices, just hire a professional domain broker and they will do their job.
Domain Brokers Have Established Network of Domain Owners
In case you don't find the exact domain name you are looking for, you may hire a domain broker. They have an established network with some of the largest domain owners in the world and may suggest similar or even more suitable domain names.
Domain Brokers Have Deeper Knowledge of the Market
Premium domain brokers are people with deeper knowledge of the market. They know what names are better for trading, what is trendy in the world of domains right now and what names will be valuable in the future. So, you can win by interacting with your personal domain broker. You can also get some advice on how to choose the right domain for you or your company.
The Domain Broker Handles Paperwork and Domain Transfer on Your Behalf
If you hire a domain broker, this will save you also a lot of time. They will do all the paperwork that is necessary when buying or selling a domain name. Also, the domain transfer will be completed by them, and you don't have to take care of all the technical stuff. This is very suitable for new domain owners, who are not familiar with the process.
What You Should Look for When You Want Hire a Domain Name Broker?
You have decided to hire a domain name broker, but you are struggling with where to start from? Well, here is some advice that we can give you:
Look for a reputable premium domain broker with years of experience.
Check for other deals that the domain broker has closed. If there are none or the conditions are not good enough, this may trigger the red light – probably you should skip this broker.
Check for good online presence – a professional domain broker who is working with online goods, must have a good online presence. This means a professional website, social media profiles and fast response to your messages.
Request feedback from other customers – if the broker has closed many deals, even for a good price, there may be other things that could disturb you. For example, bad behavior, low engagement or slow message responses.
Recommended
Here are some recommendations that you should follow when looking for a good domain broker.
Have many years of experience
Have successfully closed deals
Have very good online presence
Have many happy customers
Not Recommended
Here is a list of things that can help you recognize a domain broker with very low experience.
Have none or very little experience
Have none or too few closed deals
Lack a website, social media, regular posts
Have no customers or they are unhappy
In summary, the domain broker is an assistant that you need to close a deal. The second thing is that you need to get the most appropriate domain name for you. Of course, the price that you will pay will be very suitable and will bring you good profit in the future.
It will not be necessary to do any paperwork. Staying at home and watching the complete process is the only thing you have to do. You will also remain anonymous if you want to. At the end, you just get the domain name and the profit from it.
Where to Start?
You have selected a domain name but don't know where to start? Well, we will give you a hint. Your first step is to hire a domain name broker, so they can lead you through the complete process, step by step. They will also give you advice on how to avoid common traps in the process.
Our established premium domain name broker, Ian Garner, has many years of experience, including access to some of the top domains in the world right now. You can check domainer.com and find out the information that you need about him.
You may also send him a message for an introductory call and goal setting. During the conversation, you will make it clear what you want to achieve and how it could be done. Ian will help you invest your time and money in the right direction.
If you checked out the reasons to hire a domain broker, probably you already have at least two of them. If you have never worked with a domain broker, you should be curious to understand what they can offer you as a service.
Don't wait for someone else to take your favorite domain name before you and ruin your business plans. Check out what our domain broker can do for you in a preliminary conversation. Call Ian Garner right now and get the deal closed ASAP.
Frequently Asked Questions
Many people are not familiar with domain brokerage and have questions about it. Here we have listed some of the frequently asked questions: