Why Rebranding a Company Through a Domain Name Change Is Important?
Your company as an organization is represented by your brand, the combination of your company's identity and image.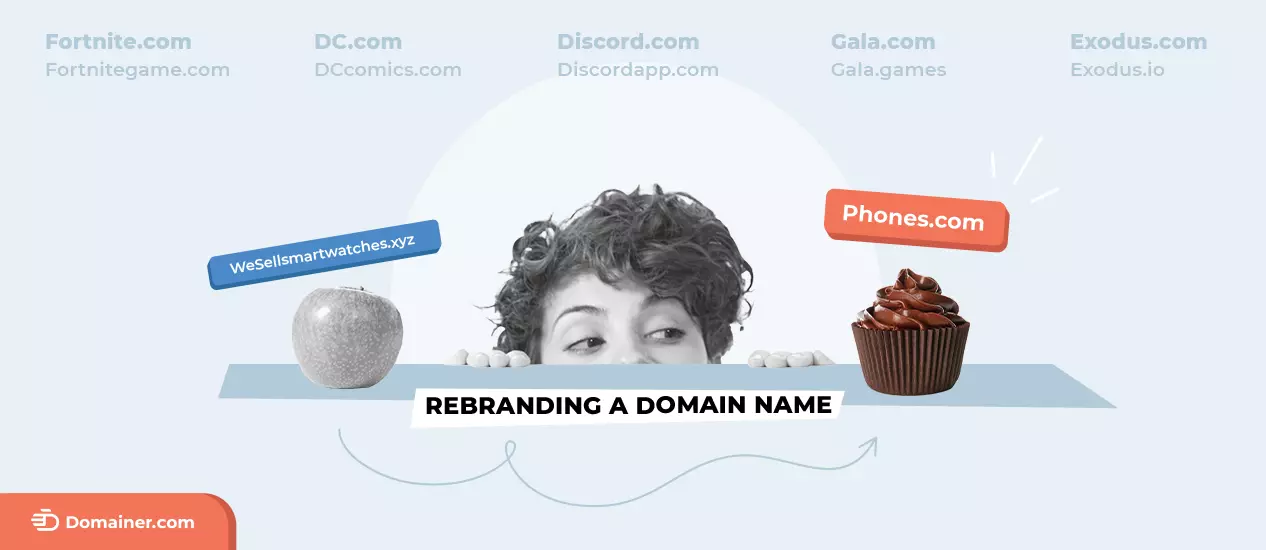 If your brand is outdated, then don't hesitate to consider when to rebrand. Even if you are the leading company in your field, if you no longer stand out from the crowd, then this is the time to take action. Your online presence is vital for customers to connect with what you offer. Nowadays, Google estimates roughly 99,000 searches a second, resulting to 8.5 billion searches a day. Some of the most looked-up companies in those searches are Amazon and eBay. These companies have established trust in their customers with promising services throughout the years.
A key factor for their success as online companies are their premium domain names. These represent their brands which are short and memorable. One of the most recent biggest rebrands is that of Facebook. They decided to rename to Meta, which is directly connected to the upcoming Metaverse, a digital world where people can be. This rebrand shows their forward thinking and new values of the company. And guess what? For someone who wants to learn more about them and decide to blindly go to meta.com, they will land exactly at their website. This premium domain name with the most popular .COM extension is a vital element for Meta's rebrand. Knowing why it is important, now is a good time to see the options of rebranding a company.
The 3 Types of Rebranding a Business
To rebrand means to first take a close look at your current assets. What do you aim to represent, how do you represent it and is that working for you? Then, it's time to think about what the weak link is and how to repair it. This can come with a big risk, it will be time consuming and you should have the right decision makers. There are three main types of rebranding. Each of those is completely different from the other. Naturally, each type requires a different period to be completed and is achieved through different approaches. It's vital for you to know the differences and see which type of rebranding a business is the one for you.
Brand Refresh via Domain Name Change – The Easiest Way to Reach New Customers
The easiest and best way to attract new customers based on your new values is through a domain update. This is vital for your new branding. It's a public message expressing who you are, your new offerings, your target audience and the message you want to convey. A premium domain name will be memorable, easily reachable and trustworthy. The domain Phones.com will be much better for your business than WeSellSmartphones.xyz, and that will leave a long-term impression in your customer's eyes given that it's the first thing they see.
Having the right keywords in your domain will also help with Search Engine Optimization rankings. As we said, with the current statistics pointing at 8.5 billion searches a day, your business can hold a big percentage in those searches with the right tools. The benefits are many. You'll strike everyone as a serious competitor who is investing in their company and branding through a domain. Your new premium domain name can also have existing traffic history which is new customer base for you, without doing anything.
Brand Merger or Acquisition
A brand merger is another possible way to refresh your own brand. This is all about merging customers, perceptions and values with another brand. A good case study is that of Exxon and Mobil Corp. which lead to the merge of ExxonMobil Corporation. The two American giant oil and gas companies merged in 1998 which led to investments and profits to increase fourfold.
The perfect case study of what could go wrong with a brand merger is that of AOL and Time Warner, two American communication and media leading companies. This 2000 deal stuck as one of the largest American business deals at 350 billion dollars. What went wrong? The two companies reportedly clashed due to their visions and style of management. AOL was more aggressive while TW was more traditional. The merger dissolved in 2009.
Full Rebrand
A full rebrand is like replacing a fruit bowl in a house full of kids. You take the bowl filled with something that no one wants anymore and you replace it with something that will work, like chocolate in this case. If the issue with your branding doesn't only depend on one thing, which you can't fix, then you might benefit from a full rebrand. Re-think your brand strategy, identity, website and domain, marketing and everything else.
Look at Dunkin' Donuts for example. They rebranded to Dunkin, and because of their brand awareness, clients still knew to think about donuts. They changed their logo, packaging and brand messaging, which all says marketing, but they also changed their stores to provide a modernized customer experience. They also changed their domain names to Dunkin, followed by country specific extensions like Dunkin.co.uk, which is how their new customers would easily find them on the web.
Pros and Cons of Rebranding Through Domain Name Change
Whichever way of rebranding a company that you choose, one thing is certain. Your old domain name has to go. Just rebranding through a domain name change might be the most useful way to uplift your company. You should consider if your website is reachable enough, whether people trust it and engage with it also. The easiest way to ensure those things happen, is by acquiring a premium domain name for your brand. Let's consider the pros and cons of rebranding through a domain name.
Pros
Rebranding through acquiring a new domain name for your company is the easiest and, in times, the most effective method.
Rebranding through a new domain name is less time-consuming than a company merger or a full rebrand
A domain name is significantly cheaper than a full rebrand or merger
Receive pre-existing clientele from your new domain
Cons
If there are weak links in your branding and company management, a simple domain change won't resolve everything.
Your wished domain might be already taken, which is solvable with a good domain broker
Rebranding through a domain name can still be quite expensive.
Without proper indication, your existing clientele might lose touch with your domain
Deciding to rebrand through a domain name change can be highly beneficial for your success story. Not knowing much on the topic shouldn't stop you from achieving your dreams. A proper domain brokerage service can save you the worries and work with you to acquire the premium domain name that will represent your brand.
Which Companies Have Successfully Rebranded Their Domains?
We mentioned a couple of companies which were either successful or less so with their rebranding or company mergers. It's only right to mention some that ware successful with their domain name rebranding. Some of the following companies have established a solid brand awareness, so they don't need to specify who they are. DcComics.com are one of the two leading comic brands in the world, so the rebrand to a premium domain name like DC.com is easily justified. The same way that after dominating the gaming ranks, Fortnite no longer needed to identify their field and could rebrand to just Fortnite.com.
Business
Old Domain Name
New Domain Name
Appraised Value
Date of Update
Search Results
(Up to date)
Monthly Traffic
(Up to date)
Exodus
exodus.io
Exodus.com
$1.99 mil.
13.07.2017
65.6 mil.
1.1М
Discord
discordapp.com
Discord.com
$554,349
2.08.2017
15.4 mil.
1.1B
Gala
gala.games
gala.com
$83,551
11.08.2018
1 mil.
229.3k
DC Comics
dccomics.com
DC.com
$2.24 mil.
11.08.2015
1 mil.
1.7M
Fortnite
fortnitegame.com
Fortnite.com
$72,288
28.10.2017
1 mil.
9.8M
Brands That Successfully Change Their Domain Names
By establishing who your brand is, similar to the examples above, you can rebrand your domain name to a shorter, more memorable and premium domain name. Make it easier for people to find you and to interact with what you offer. Following are some detailed examples of how companies have successfully rebranded.
Exodus
Exodus is a platform where users can store, manage and exchange their cryptocurrencies on different devices. Exodus used to be under the domain Exodus.io. This is a domain extension that nowadays still attracts many tech companies, despite being a British Indian Ocean Territory specific domain extension. In 2021, the company changed their domain to Exodus.com, considering it to be an indefinite-lived asset. Whilst they still support the old domain, the new acquisition cost the company additional $1.9 mil. The difference between a .IO and .COM extension is – customer trust alongside positive appeal and established position in rankings among others, all in favor for .COM. This brings Exodus a monthly traffic of 1.1 million while appearing in 65.6 million search results.
Discord
Discord is one of the leading communication platforms. They stand out by providing invite-only servers, which can have sub-categories and roles for different users, allowing certain actions within the communities. Discord came out in May 2015 under the domain and brand DiscordApp.com and quickly became a success. In the following year, they raised $20 mil. In funding and in 2018 Microsoft introduced Xbox Live support function as a result to Discord being widely used in gaming and esports communities.
In 2020, due to the pandemic, many users signed up to Discord to keep in touch with their communities. Discord then decided to change their slogan from "Chat for Gamers" to "Chat for Communities and Friends". This is where the whole rebranding and domain update started to kick-off. In April 2020, the social media usernames changed from @discordapp to just @discord. On May 4th 2020, the domain also changed to Discord.com. Similar to Dunkin' Donuts, everyone knew what Discord was and they could easily rebrand to a shorter, premium domain name. This rebrand was Discord's way to introduce their new communities and to welcome a new target audience.
Gala
Gala Games is a blockchain gaming platform where players can earn crypto and NFTs by playing. When the company launched in 2018, they operated under the domain Gala.Games. By using this gTLD, they were presumably trying to position themselves in the gaming market as a start-up. They quickly gathered over 1.3 million active users in the Gala ecosystem and have acquired millions in funding and investments. The website now has a monthly traffic of 229.3 thousand users. All this information shows that Gala Games hold a serious spot in the market. Do they still need to distinguish who they are through their domain name extension .GAME? Having established who they are, and considering their steady growth, Gala Games have rebranded their domain name to Gala.com, a premium domain name to represent the new brand identity.
Frequently Asked Questions
To all companies who have successfully rebranded, we say good for you. We've summarised the most frequently asked questions about rebranding through a domain change for our reader here.