Domain Brokerage Service
Taking the step in putting your business online is an important decision. There must be a lot of questions for those who don't know much on the topic. We appreciate that and are here to answer them.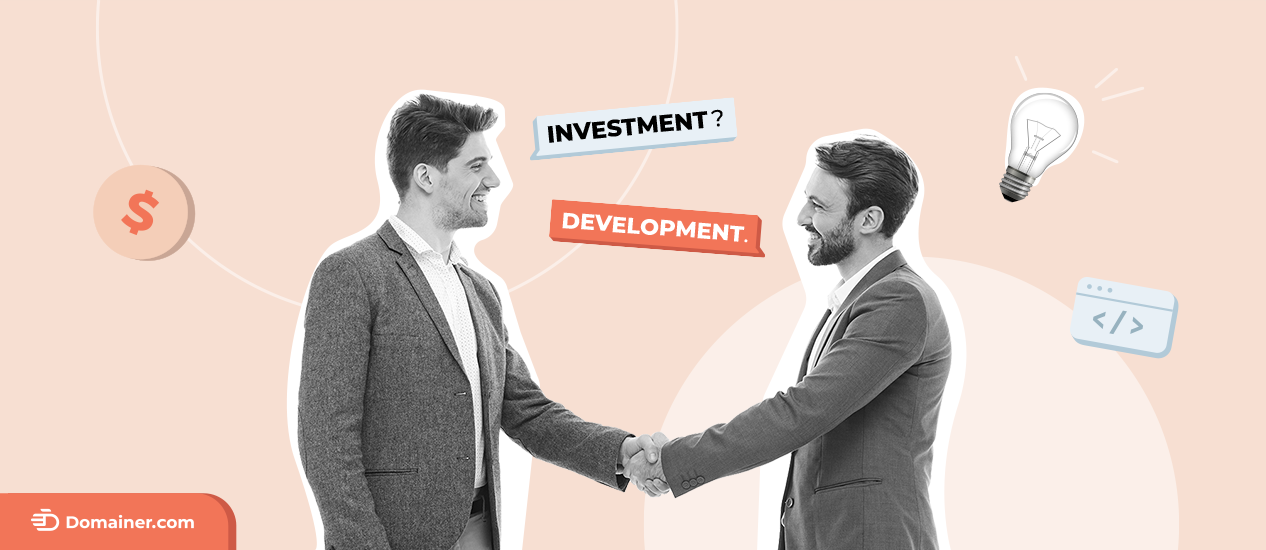 Let's put ourselves in the following scenario: your company is called CheeseSlices, you are based in and only offer your products in the UK, and you have put some funding aside for your website. Oh, and your name is Albert, nice to meet you!
Of course, you would like your domain and brand to match. But the premium domain name CheeseSlices.co.uk is already taken. Is that it then for your company? Or do you have to go with AlbertsCheeseSlices.co.uk because it is the only other available domain? Absolutely not! The world of domain brokerage services can offer you exactly what you might need.
What is Domain Name Brokerage?
Domain Name Brokerage is what will bring our Albert ahead to get his dream domain. If he was to buy a house, he would contact an estate agent. Similarly, in this case, he needs the assistance of a domain broker. Domain brokers offer services like domain buying, domain dressing and sometimes have allegiances with domain owners. They are the people that would help Albert with buying the domain most appropriate for his business. But not everyone will help him with buying THE domain that he wants.
A big and well-known domain name brokerage service will focus on the seller's desires and to drive people through the big market of domain purchasing. Not necessarily what the buyer might need. So, it's very important to consider all options available and to hold onto the best broker. They are most likely to help you track the owner of the desired domain name and negotiate the purchase with them on your behalf.
A good domain broker will offer a personal touch to the service and have your best interest in mind. As a specialist, they will also be able to offer you the best advice on the deal and keep the buyer's identity anonymous throughout the negotiations. If the seller knows the identity of the buyer, and if it's an established one, they might increase the price purposely.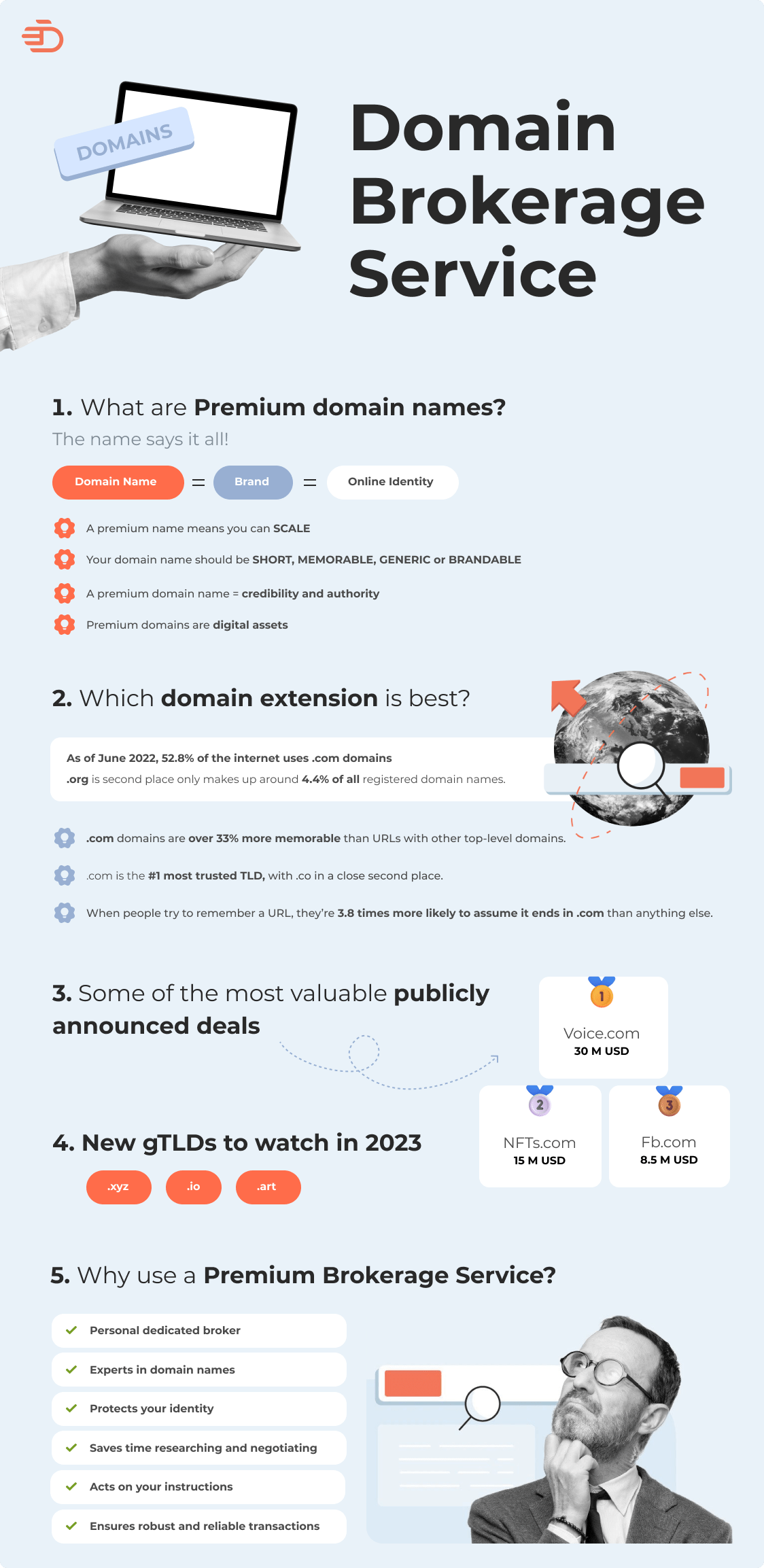 Find the Best Domain Broker Service for You
Before getting in touch with a domain broker, however, it might be a good idea to consider if you are buying a domain for development or for investment. This will establish what might be the best domain broker service for you. For example, do you want to do what Albert is doing and purchase a premium domain name for your business? Or do you want to establish a premium domain name portfolio for investment? Maybe you already have a domain that is lacking in value and you want to increase its revenue.
Purchasing and Selling Domains
Investing in domains has its benefits – you can earn a passive income for example and there's limited supply and growing demand for specific domain names which you might hold in your portfolio. You could engage in domain flipping or domain buying and holding, fact is, a domain broker could help you establish that and make the process a lot faster and smoother.
Business or Investment Goals
The shorter and most accurate that your domain is, the best for your business. Getting your hands on the best premium domain name will be simplified and faster if you use the services of an experienced domain name brokerage. Another worthy investment is the Domain Dressing Service (DDS) for your premium domain website. This will generate a passive income through your domain.
Is the Domain Already in Exploitation?
What a domain brokerage will have to make sure of is if the premium domain you want to acquire is in exploitation. Meaning, if you want to buy an expired domain name, an extensive background check of that domain needs to be done. There is the risk of hacked websites or poor history which lacks the quality traffic that you might otherwise get from another domain.
Tricks to Spot Great Domain Brokerage
Let's grab Albert again and show him a couple of tricks that he needs to know. He has started to look for the best domain broker service, he has found some candidates that promise him their top service, but he doesn't understand what exactly to look for:
Asking about your goals and vision – Something that you should be aware of when purchasing a domain broker service is to expect an interest in your goals and vision. A good domain broker should want to communicate about those and only so will they be able to guide you towards the best domain.
Develop a Strategy Specifically for Your Case – Your domain broker should be concentrating a big amount of his capabilities on your project. By developing a strategy/plan it will be easier to follow a step-by-step organized road to success for both sides. But by going the extra mile and providing you with a personal service, both sides will profit from it in the long run.
Fitting in your budget – Many domain brokerage services will aim to sell the most expensive domains, again, commissions. But proper domain brokerage services will try to find the best solution for you that fits within your budget, and not a cent or a penny more.
Skillful broker – One of the most important skills a domain broker should have is negotiating. Before setting down on a certain domain trade brokerage, try to do your own research of them. An experienced domain broker should be able to offer a smooth process of transferring the domain name to its new owner through negotiating the price, direct the process of document signing and finally the transfer itself.
It's no surprise at all that most buyers aren't aware of buyer's brokerage. That is because the biggest domain brokerage services will often receive hundreds if not thousands of inquiries daily. With only so many brokers, these inquiries won't receive the attention they desire. Contrarily, these buyers will be directed to one of the existing millions of domain names that this big broker has. Often found sifting for gold, these brokers will focus on the biggest offers because of how income focused they are. It isn't a hidden practise that they will also try to dig out any information about the buyer to use against them for a bigger sale.
There's another approach that we offer here at Domainer.com. As a boutique and tailored premium domain name brokerage, we rely heavily on the buyer's interest. Ian Garner's existing relationships with contacts will help to engage the right people in acquiring your dream name. We also rely heavily on communication and keeping your anonymity for the best deal, whilst thriving to get the premium domain name that you want. This is why we are proud to offer an overall better buyer's experience than any of the giants.
Contact Us to See if We're the Fit for Your Goals
At Domainer.com, we don't sell domain names, we don't have a marketplace or any allegiances with domain name owners. We offer a strictly boutique, personalized and end-to-end premium domain name buying experience. Getting in touch with the best domain broker service will cost you absolutely nothing and you might just meet the person to push you forward. With over seven years of experience and named as the top performing broker in 2018 by Uniregistry, attaining over $3M in domain name sales, Ian Garner has the expertise to help you with your new entrepreneurship.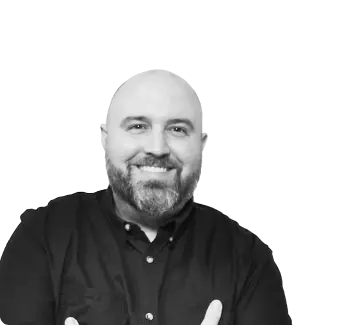 FREE Initial Consultation
Take action and contact Ian Garner to start the acquisition of your desired premium domain name!
Frequently Asked Questions
We've come to the end and we hope you've learned what the domain name brokerage looks like and how to secure it for yourself. Of course, we have summarized the most important points below to remind yourself of the content in this blog: