Ring Domain Update from DoorBot
DoorBot had a great start as a start-up company, providing security to neighborhoods, but something was preventing them from achieving their full potential.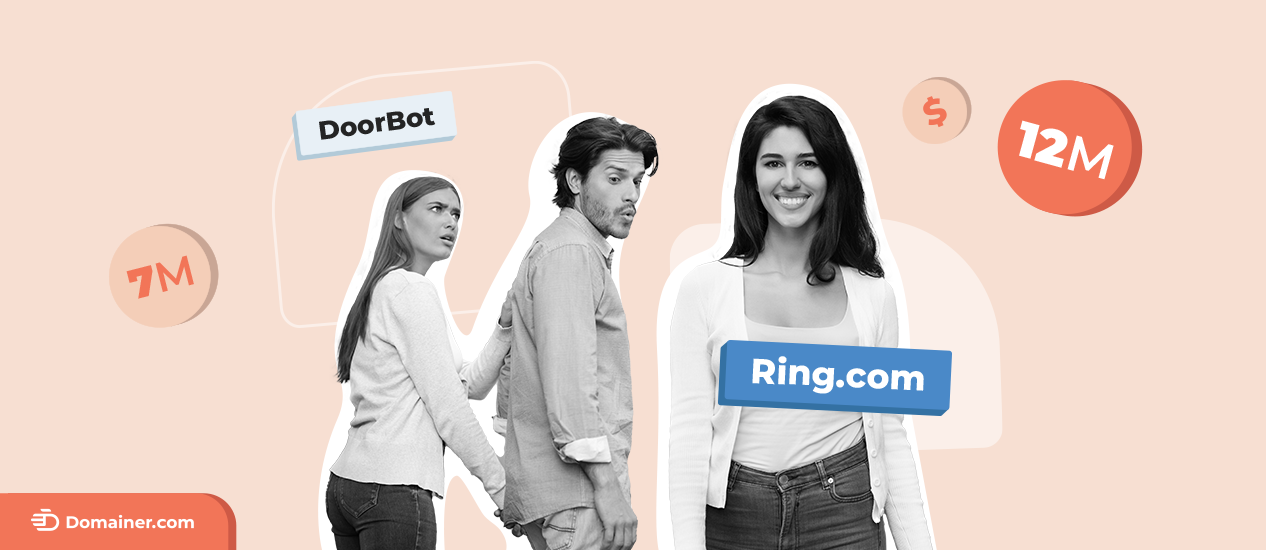 In 2013, DoorBot was valued at $7 million. Afterwards, Siminoff completed a rebrand to Ring, which earned him additional $5 million. That led to the Ring domain update in 2018. That change was significant for Siminoff's brand and he describes it as going from like a beat-up Honda to like a Rolls Royce whatever with a driver.
Why was the old domain compared to a beat-up Honda? Because it simply wasn't a premium domain name. DoorBot couldn't secure the perfect domain representing their brand, so they had to stick with GetDoorBot.com. But Ring's founder says that a domain name wasn't their priority back when they were trying to lift their business up.  
James Siminoff, however, is an entrepreneur who (back in 2009) had a domain portfolio of over 200 domains worth $250,000. With that background, it's obvious that the thought about a proper domain for his company would eventually have come up.
How DoorBot Came to Be
n 2012, James Siminoff was missing out on the postmen ringing his doorbell while he was in his garage, working on a gardening start-up. To prevent that from ever happening again, he created a video doorbell connected with his smartphone through a Wi-Fi connection. His wife felt extra protected having this gear on their door, so he pursued the idea by creating the DoorBot. He then presented his product to Shark Tank just a year later. For those unfamiliar with the programme, it's all about entrepreneurs pitching their business ideas to a panel of investors.
Doorbot was a very difficult product to produce, between the goal of a battery that lasts one year, video, instant notifications, mobile apps, etc. However even with a skeleton crew and lack of proper funding we were able to produce and ship doorbots to our customers starting in November of 2013. Less than 1 year from when we had announced the product. Looking back this was a pretty incredible feat.

By Jamie Siminoff
Chief Inventor and Founder | Source: ring.com
Siminoff pitched his product in the fifth season of Shark Tank, and despite most media saying that he was rejected, he actually received an offer. The entrepreneur asked for $700,000 in exchange for 10% of equity stake of his company. All investors declined, but Kevin O'Leary countered the offer with $700,000 for 10% in royalties and 5% equity stake. Siminoff declined the offer and went home empty handed. Now, ten years later, the rebranded Ring company has a wider catalogue for its clients.
Products
Since the start of DoorBot, the company has always been geared towards the same values and missions. Make Neighbourhoods Safer. In its early stages, the company only sold through their website, now Ring.com, but are now available in stores and online in the regions of the Americas, Europe, Asia Pacific, Africa and the Middle East.
Ring's Catalogue
Here are the products that, depending on location in the USA, help with neighborhood crime prevention by up to 55 per cent
Video Doorbells
These range from $64.99 to $349.99, from wired and wireless/battery-powered doorbells. Some of them come with slightly tweaked features, but in essence, all of them provide a two-way communication and a video broadcast.
Security Cameras
Slightly different that the doorbells, these security cameras come as a smaller indoor hardware for the security of your home. Or as an outdoor security cameras with lights looking out for suspicious activities in the surroundings of your house.
Security Systems
Taking it a notch further, Ring provide you with a kit of an alarm base station, door contact sensors, keypads for access, motion detectors and even an outdoor siren (which alerts your neighbours) amongst their whole range of security systems.
All products have the same core basis, the Ring App. You can control your product and how it notifies you of specific things, which you can also set up. Functions include Live View, where you can see who is at your doorstep and talk to them. Or Privacy Zones, to mark up your neighbor's side of the video, keeping their lives private and off your camera. Best thing is, you can be in the office or across the country and see and speak to the person ringing your door.
Why Did the Update of Ring Domain Name Happen?
James Siminoff realized that he had a real company now and needed to put a proper brand on it. The idea of Ring, as he says in an interview with Michael Cyger for DomainSherpa, is rings of security and ring around your community. Then on 29th September 2014, DoorBot initialized the Ring domain change to Ring.com and launched the first Ring Video Doorbell.
Siminoff decided not to go with a domain broker because he believed the seriousness of the price would indicate a serious buyer too. But the acquisition of Ring.com was apparently a constant back and forth. Ring's founder initiated the first offer, to which he was laughed at by the domain seller. The communications, mostly over the phone, lasted for over a month. James, at times, was sure that he wouldn't get the domain at all. It was a very tough situation that he put himself in.
Could the whole process have gone smoother and faster for the GetDoorBot domain update? Certainly, by getting in touch with a domain brokerage service. A simple consultation with an experienced domain broker could have surely shown Siminoff an easier way. A good domain broker will have your best interest in mind and will keep you anonymous from the seller so that the price doesn't increase based on reputation. In the end, you won't have to overpay and will always be represented by someone who knows the business inside out.
Was the Ring Domain Change a Successful Move?
The Ring domain name brought the company a magnitude of sales growth. But based on its founder, the success isn't all thanks to the Ring domain change. Ring was claimed as Top Ten Products of 2014 for Time Magazine. That must speak volumes about the quality of the product and the trust that its consumers hold in it. Ring also works with organizations and has so far donated over $2 million in devices, services and finances. That says a good lot about their values. All things point to a positive brand, with valuable missions and factual deeds. The company had a fixated five-year plan but there might have been a necessity to compare DoorBot's worth to that business plan and consider their options to rebrand. And comparing DoorBot vs Ring shows some valuable insights:
GetDoorBot.com
2013 Revenue of under $10 million
No available data
Current domain price: under $100 (based on estibot.com statistics)
New business materials (e.g. business cards), branding over product and merch is brand new
A new market without any customer base
Ring.com
2022 Revenue of over $500 million
22 million visits in Nov. 2022
Current domain price: over a million dollars (based on estibot.com statistics)
Need to totally wipe out the old branding on products and merch and introduce new branding
Existing market, rebranding with existing customer base
Neither can depend solely on their domain for sales and business success – it's a combination of many business elements
DoorBot, and its GetDoorBot.com domain, are left in the past. For good. Through the launch of new products and the simultaneous Ring domain update, next to many other factors of course which we mentioned earlier, the company had a successful relaunch and took all the right moves.

Successful is right to say as we can see from the organic traffic generated through their website. This traffic comes because of a customer looking up a desired product through a search engine and reaching a website from that search engine. This website doesn't come up as an ad or a paid promotion, but organically because it corresponds to what the user was looking for. In this case, Ring.com has hit all the right requirements to get there.
The Ring domain name attracts more customers to the webpage with each year, as we can visually see from the chart above. Slowly but steadily. From its launch in late 2014 until January of 2018, the website generated roughly 1.2 million traffic. In the following four years leading to January 2022, the charts went up with approximately 1.6 million. Throughout 2022, the website attracted around 600,000 visits and the way we see it, the numbers are expected to go even higher in the next years. Unsurprisingly because with a premium domain name like Ring.com, this is absolutely achievable.
Frequently Asked Questions
And whilst we don't have a video recording from a Ring video doorbell, we still want to show you the most frequently asked questions that knock on people's doors: