What Is a Domain Name Change and Why Do Brands Do It?
Changing a domain name can be relatively easy once you go through choosing your new domain, but it's always a very important decision to make and consider.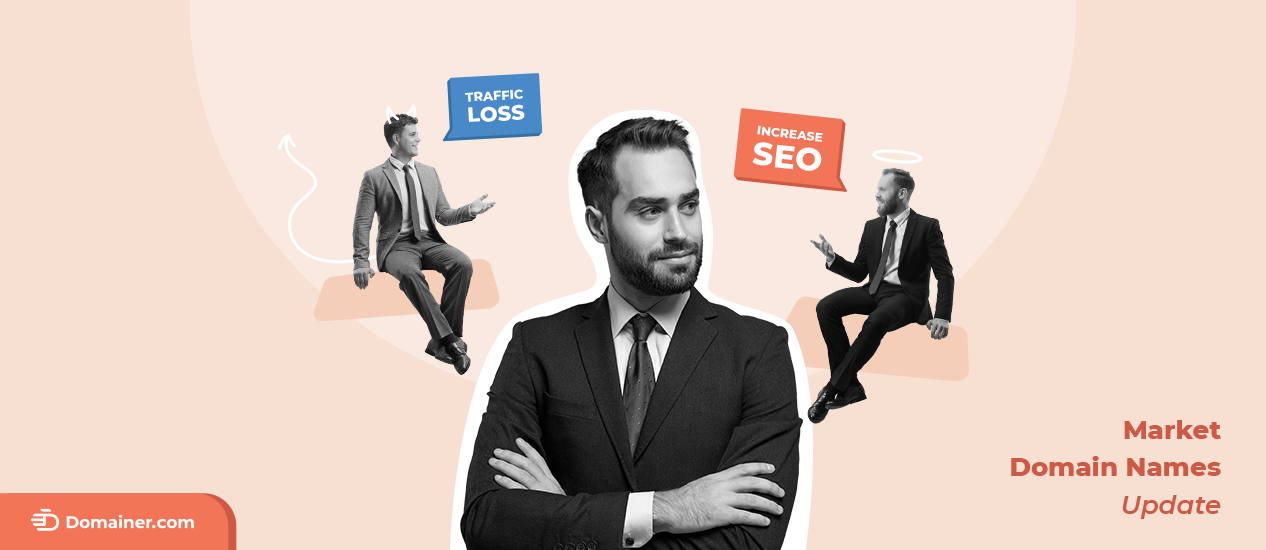 In short, you are renaming the address of your website. Depending on how big the domain name change is, you might be renaming/changing your whole branding as well. Changing a domain name means that you buy a new domain and you connect your website to that new domain, whilst removing the old one. You could sell the last one or even keep it running to redirect people to your new domain. For a regular person, changing the domain to their blog might not be a big of a deal. But for an established company, this is a huge step that will either uplift or potentially damage their business. It is hence important to consider the pros and cons of this process beforehand.
The Benefits of Domain Change for Your Market Opportunities
Anyone would want their business to flourish. Knowing how to steer that into the right direction is important. One of the main aspects of a brand is your domain name. In some cases, this domain is only slowing your success. Things like rank of domain name and domain name extension are very important to consider when choosing the right domain name. And if your current domain doesn't have the right valuables, you should consider a domain change. Although this process can take some serious thinking and planning, it is most likely to help you with your market opportunities. Here, we want to show you how this can happen.
Benefits of Domain Name Change
By deciding to change your domain name, you are exposing
your business to improvement and can benefit through some of the following ways.
Connect with your market
Your domain should position your brand in your market. A domain like Cars.com will help you far more than a domain like Fourwheeledmachine.com. The first one will be popping up in search results and to people who blindly type cars and .com. The latter is a terrible domain example.
Open more market opportunities
By changing your domain name, you are also able to perform a rebrand. You can introduce new products to new audiences and introduce your new values. This will generate more market opportunities for your company and can benefit from that.
Adding new niches to the current market
Have you found a suitable new niche for your current market? By changing your domain name, you can in a way introduce that new niche and jump ahead of your competitors. Be the first to initiate new opportunities for market and customers.
Increase your site's SEO
Your new domain name can help with increasing your SEO rankings. By simply having an important keyword in your domain, you are more likely to get higher exposure to search results. This leads to more interaction with your website and products. This translates to success.
Identity and branding
Your domain name should reflect your company's identity and branding. Make it short, memorable and easily recognizable for your customers (= premium TLD). They are most likely to instinctively look your products up by typing your brand followed by the .COM domain extension.
Lower online marketing costs
By having a premium domain name with a trustworthy extension and increasing SEO, you can generate organic traffic that will decrease the need to overpay for online marketing. This is an easier and cheaper way for you to reveal your products and sell them.
Turn those benefits in your favor and you will already stand out from your competition in your specific market. Before jumping to the conclusion of changing your domain name however, it's important to consider the risks of doing so.
The Risks Associated with Changing a Domain Name
As we established, changing a domain name is a very important decision for your brand and how it's performing in the market. Whilst it might not be apparent, there are many invisible strands that play an important role for how well your website is doing. Search Engine Optimization is an important process which covers those. This process makes it possible for traffic from search engines to reach your website. It takes your website's configuration, popularity and content importance in consideration and thus ranks your website higher or lower in search results online. Thinking about your current rank and what might happen to it if you change your domain is a valid question. Here, we want to focus on the risks that you might want to consider.
Risks of Domain Name Change
By changing your domain name, you throw the search engines' chance
to rank you off guard. This doesn't particularly mean that you are getting yourself in a bad spot,
but the following risks are worth considering before investing in a new domain.
Possible Traffic loss
There is no guarantee that you will lose your current website traffic. There are some websites who have seen no change, some have, however, seen a drastic change. A traffic drop can be avoided in many ways, an example is by redirecting your old domain to your new domain name.
Relearn and reindex by Google
Google sends out crawlers through websites which scan these for updates and updates Google itself. By having a new domain, you won't come up yet because it takes a while. But you can use Google's tool to recrawl your website for faster results as a way around.
Loss of "Older" domain advantage
Older domain names are generally preferred over brand-new domains. They also have existing traffic that a new domain will not yet have established. Not to forget that an older domain will have a recognized and positive record with the search engines.
Like the other risks, you can expect some traffic loss, after all, you are changing the address of where people find you. Although the risks are a fact, with the right planning and strategy you can find a way around them. This shouldn't stop you from acquiring your dream premium domain name. Speaking of, do you know how to choose the right one?
How to Choose the Right Premium Domain Name for Your Brand to Be Successful on the Market
Choosing the right domain name is the most important thing to consider when buying one. A previous example we gave was Cars.com and Fourwheeledmachines.car. The first one is short, on-point and with a great domain name extension. Some of the features that make a perfect domain name. The second example is irrelevant, doesn't clearly state what it is and on top of all, it's long and has an extension that can be considered sketchy. A premium domain name is the best possible domain that you can pick for your business. The following features result to the best premium domain name.
Keep it short and simple
The shorter the domain, the more premium that it is. Having a keyword as your domain can help with your ranking but also with how easily people find and remember your website. Hotels.com would have a much better success than Placestosleepat.com. People are more inclined to instinctively type in a search engine the word "hotels" which will direct them to the most relatable site. Unsurprising that Hotels.com is one of the biggest platforms for finding accommodations. If you want to have the same success, keep it short and easy for your customers.
Avoid hyphens, numbers, and doubled letters
Debatable, but credit to phishing and spam emails, websites with anything else but letters in them seem to be perceived as tacky. Many of those are look-alike domains aimed at people to click on and to consequently get scammed. Besides, if your website isn't something that people use daily in order to remember it, or if it isn't a big and well-known brand, then you're only challenging your customers by adding hyphens or numbers. Using doubled letters can also cause misspelling and lead to traffic loss for your website. Because of that, many big companies like Facebook have bought domains like facebok.com which redirects users to the legitimate website.
Stay unique, specific, and on-brand
You should really consider your investment when choosing the right domain name for your brand. Start off by choosing a domain name that is related to your business. Ideally, it should be an exact match reflection your brand. On top of that, by defining your market and products in your domain, people will know who you are right away. Being on-brand is a key element to represent your company's image and identity through your domain, which is important for your customers. If they trust your brand, they are inclined to trust your domain.
Add keywords
Be specific in what you offer right from your domain, people are more inclined to click on your website when they see that your domain has the exact words they are looking for. Keywords in your domain help massively with how well your website is doing. This will help with your SEO rankings and organic traffic to your website. If you sell NFTs, having that keyword in your domain name will act as an indicator to the market that you are positioned in and your products. Your website will also show up higher in NFT search results.
Consider domain extensions (.com/.net, etc.)
The .COM domain extension is the one to go for. Unless you are an organisation and need .ORG, or you are a country-specific brand therefore needing .DE for Germany for example, you should always aim for the extension that everyone trusts. There are even more gTLDs nowadays which help people to claim their wished domains under different extensions like .IO or .XYZ. But people have used the .COM extension for over 30 years and are more trusting to domains with that extension. Not only that, but many spam websites use different and less known extensions, so many people might consider your website to be a scam attempt if it is anything but the king of domain extensions.
Which Markets Have Successfully Gone Through a Domain Name Change?
If this article has been like a guide so far, we want to show some examples which have successfully implemented everything said above to acquire a premium domain name for their benefit. These businesses have gone through a domain name change which has increased their traffic but also allowed them to concrete their personalities. By establishing who they are within their markets, these companies have been able to rebrand to a shorter and more brand-reflective domain.
Business
Old Domain Name
New Domain Name
Appraised Value
Date of Update
Search Results
(Up to date)
Monthly Traffic
(Up to date)
Paw.com
treatadog.com
Paw.com
$126,067
12.05.2016
72 mil.
274.2k
Crypto.com
Mona.co 
Crypto.com 
$12 mil.
6.07.2018
19.7 mil. 
7M
DC Comics
dccomincs.com
DC.com
$2.24 mil.
11.08.2015
1 mil.
1.7M
Businesses That Thrive Even More After Changing Their Domain Names
With millions in search results and monthly traffic, those websites have secured a pretty stable position within their respective markets and can so easily generate more traffic and sales. The domains Treatadog.com and DCcomics.com are still active domains which re-direct users to their new domains. What exactly lead to those domain changes?
Paw.com
Paw.com started off as TreatADog, a company offering beautiful and functional dog products like beds and accessories. The idea was to offer a monthly treat box, hence the name. But founder Dave decided that the name was long. He was also adviced that a premium domain name is of great importance to an online business and was proposed to acquire the name Paw.com. In 2019, founder Dave decided to rebrand and change the domain name to Paw.com. They introduced the new domain through an email newsletter and domain redirections, allowing to secure their existing traffic.
Crypto.com
Former domain name Mona.co had an unusual domain extension and wasn't very specific in what it offered. They were after a rebrand that would give them a powerful new identity, which is Crypto.com. The word crypto comes directly from cryptocurrency, which is exactly what the company offers – securing, exchanging and managing owned cryptocurrencies. Crypto is already a standard word for many people and is preferred when looking up a lot of Web3 terminology. The domain Crypto.com was acquired in 2018 for $12 mil. and the organic traffic that the website receives as a result of that is also in the millions.
DC Comics
Batman, WonderWoman and Aquaman are some of the most famous superheroes known in the world. They are all product of DC Comics, and since many successful movies and game adaptations, the company has become even more successful. By establishing who they are, DC Comics no longer needs the word comics in their domain. Everyone has learned what the brand offers. A simple but premium domain name like DC.com works even better. As we mentioned earlier, people are likely to blindly type in a brand name and the .COM extension to look up a brand, which would work well with DC.com.
Frequently Asked Questions
We have so far covered many of the ways how a domain change can bring your brand success. Let's look at the questions on the topic that people would want answered: